Gujarat didn't bend before Nehru and Indira, what is Sonia's class then?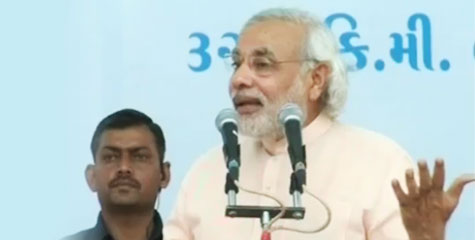 Gujarat Chief Minister Narendra Modi was in poll mood today while addressing rural Bhavnagar people in Botad. Modi attacked central government in his fiery speech. Modi said Gujarat will never bend before Congress ruled centre. He said Gujarat never did bend before Nehru or Indira, what is Sonia's class then?

Modi attacked centre over issues like cotton, gas grid, approval to medical colleges, power and more. Modi said that PM residence uses generator due to power shortage in Delhi, while Gujarat farmers get round the clock power.

Modi said Delhi wanted power from Gujarat, and we were ready, but look at their irony, there found that there was no infrastructure in place to get power from Gujarat. Modi said, 'they changed how many leaders in last ten years in an attempt to give me a fight, but none could stand against us.'

Modi said the Congress bashes him through newspapers, paying for each word, and added, "it's fine so far I am targeted, but attack on people of Gujarat would not be allowed". The people of Gujarat will never accept those lying and obstructing development.
Share Your View via Facebook
top trend
what next
IBTL Gallery