Narendra Modi addresses big rally : Bihar Centennial Celebration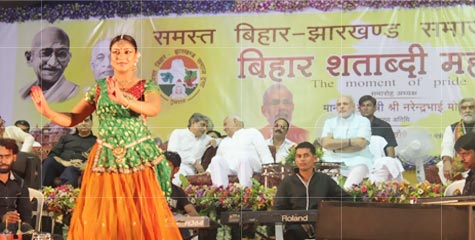 During the Bihar Centennial Celebration in Surat the Chief Minister Narendra Modi called upon the Bihari families settled in Gujarat to revive the lost glory of Bihar. "Throughout the history, Bihar has been the region that served the mankind most significantly and yet its image today has dulled", he said.

Bihar Centennial Celebration was held today in Surat, on the occasion of Buddha Jayanti, under the aegis of Bihar-Jharkhand Samaj Trust.




Mentioning about Bihar's contribution to the mankind Mr.Modi said that Gujarat and Bihar shares unbreakable ties. The influence of Buddha and Mahavira has been the most even today on Gujarat. Mahatma Gandhi did the Champaran satyagraha on the land of Bihar while Bihar's Jayprakash Narayan launched anti-corruption movement from Gujarat.

Our nation is one single entity. And this oneness is what our ancestors have taught us. Gujarat is known for its hospitality. "Gujarat welcomes all and respects all. And so, the people who came to Gujarat from Bihar to settle here will find peace and safety in the State", said Chief Minister.
Share Your View via Facebook
top trend
what next
IBTL Gallery