Gujarat International Finance Tec-City receives World Finance-WN Media Awards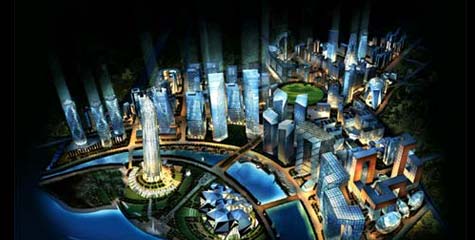 Just a few days ago, Gujarat International Finance Tec-City, popularly known as GIFT did the entire nation proud when it was adjudged the 'Best Industrial Development & Expansion Project' by World Finance Magazine. A variety of considerations from infrastrusure, scope, size etc ensured that GIFT emerged victorious, ahead of Moscow's Internatinal Finance Centre and Songdo in South Korea.

Recent news in TOI states that, "a team from WN Media was in Gandhinagar for an for an on-site inspection of various sustainable processes that will be part of urban planning in Gift city. The WN-Media has three categories of awards, World Finance Banking awards, World Finance Legal awards and World Finance Infrastructure Investment awards. GIFT won in the third category."




The last few years have witnessed unprecedented growth in India's financial services sector. Both in terms of share if the GDP and in job creation, this importance of this sector is gaining pace and this is bound to increase even more as time passes. You may have noticed that several developed countries have created high-tech financial hubs serving as focal points of their nation's development journey be it Shinjuku in Tokyo, Lujiazui in Shanghai or the London Dockyards in UK. With a condusive environment, these centres enhance capital flow and give a great impetus to talent.

It was this vision to revolutionize India's financial and infrastructure landscape that made Chief Minister Shri Narendra Modi conceptualize GIFT and announced its launch on 28th June 2007.
Situated on the banks of the iconic Sabarmati river, GIFT is located 12 km from Ahmedabad's International Airport and 8 km from Gujarat's capital Gandhinagar. GIFT primarily caters to India's massive financial services sector by offering world class infrastructure, a business oriented and environment friendly atmosphere. With a target of more than 5,00,00 direct and the same number of indirect jobs, GIFT will provide opportunities to many bright youngsters of India.

The implementation of GIFT marks a wonderful example of how public-private partnership can together script a new roadmap to economic development. Along with a determined vision comes state of the art infrastrucute. GIFT would have 24/7 water supply, electricity along with the communication and transport technologies.




It is not only India but also the world that is seeing an ocean of opportunity in GIFT. Till now, GIFT has attracted a variety of investments from various sectors. Countries from Singapore, Malayasia to China are also serving as active particpiants in this landmark project. Companies such as Fortis and CISCO are among those that have signed MoUs to invest in GIFT.

In December 2011, GIFT created history when it was notified as the International Financial Service Centre (IFSC) for its multi-service Special Economic Zone (SEZ). This accreditation affirms GIFT's ability to emerge as an international financial hub. The future of the world economy lies in stellar infrastructure backed by top quality finance services. It is these international demands that propelled the launch of GIFT project. The project is a 'win-win' situation for both India and the world.

Source & Graphics : narendramodi
Share Your View via Facebook
top trend
what next
IBTL Gallery