Modi asked to be notified if any official asked for a bribe : a Special Report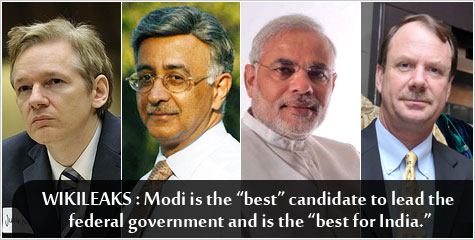 While Gujarat Congress leaders continue to say in every forum that the Narendra Modi government is corrupt, the reality could be different.
One of the latest leaked cables available on Wikileaks is interesting in this regard.
In 2009 April, when Mumbai based American Consul General Paul Folmsbee talked with Pune based industrialist Baba Kalyani, the Chairman & Managing Director of Bharat Forge, Kalyani told Congenoffs that Modi is the "best" candidate to lead the federal government and is the "best for India." He noted that Modi quickly realized that "the best way to maintain power is to improve the life of the people and not make empty promises." So, he electrified the villages and ensured adequate drinking water for all residents in Gujarat. Kalyani stated that when Bharat Forge went to set up a plant in Gujarat, Modi asked to be notified if any official asked for a bribe. In addition, Modi asked Kalyani to help the schools in the area where the plant would operate.
Click to Read : Narendra Modi is hot favourite for Prime Minister post
Under the title 'Modi's Pro-Development "Brand" Finds Devotees,' the cable further said, " Business leaders in western India generally concur that Modi has introduced good governance, ensured relatively low corruption, and created a pro-business environment that has undergirded Gujarat's strong economic performance over the past seven years. In January, at a Gujarat investment conference, a number of India's most senior industrialists were unusually and emphatically vocal in touting Modi's achievements and suitability to become Prime Minister.
These sentiments are objectively true, in that Gujarat's infrastructure, governmental accountability and efficiency, and responsiveness to business concern is considerably better than most other states, especially its economic rival in western India, Maharashtra. His dominance in the state minimizes political distractions which help him focus on his goals. Business leaders hope that Modi's commitment to these principles can be extended to the wider Indian environment, where state and federal governance is consistently poorer than in Gujarat.
Share Your View via Facebook
top trend
what next
IBTL Gallery