Some of my team members have ego problems: Anna Hazare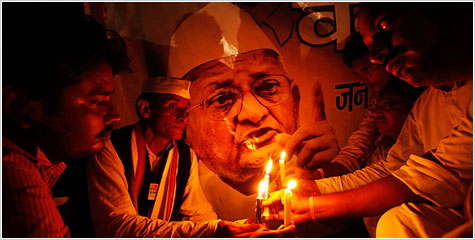 The New York Times, a US newspaper has said that Anna Hazare felt that some of his team members had "ego problems" and he was not getting the "right feedback" on the negotiations during his August agitation for a strong Lokpal.
Hazare has reacted that he was misquoted and there was no question of removing Arvind Kejriwal or Prashant Bhushan from the core committee leading the agitation.
In an interview to the paper, Hazare was asked: "Among your allies are Prashant Bhushan, who criticises economic liberalisation, and Arvind Kejriwal, who has been criticised for saying overly harsh things about the prime minister. Do you agree with them, and is there disunity among your senior leaders?"
To this, Hazare was quoted as saying, "I will try to change them. There were some ego problems. From the government side it was Chidambaram and Kapil Sibal. From our side also there were some issues. I was not getting the right feedback, nor was the prime minister. That complicated the issues. Later, Vilasrao Deshmukh and another minister got involved and direct contact with the prime minister was established. I have an old relationship with Vilasrao. Then the issues were resolved. They (Bhushan and Kejriwal) are good people. I need to change them. I will change them."
In a statement, Hazare said the journalists had asked him whether he agreed with the views of Kejriwal and Bhushan and whether there was any differences among his supporters, to which he had replied that if there were issues, they'll be resolved, and that he talked of their removal, is untrue.
Share Your View via Facebook
top trend
what next
IBTL Gallery