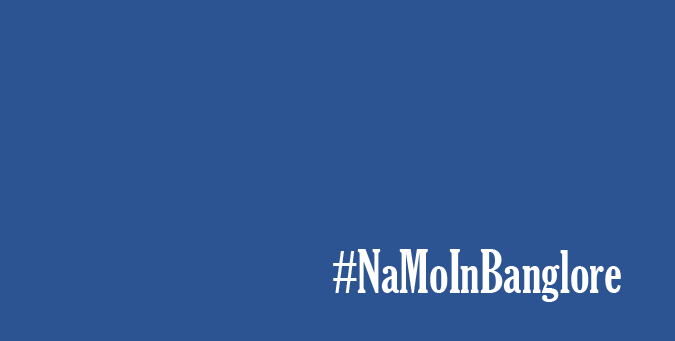 He came, he saw, he spoke, and he wowed. He'd already conquered Bangalore years ago. In his 28 April election speech on the eve of the Karnataka Assembly polls 2013, Narendra Modi simply notched up yet another triumph in a long series of triumphs that began with his third consecutive, definitive victory in the Gujarat Assembly polls. Nobody expected anything less. Just as Narendra Modi the Chief Minister delivers every single time, Narendra Modi, the committed BJP party worker (as he describes himself) too delivers every single time. Consistency in victory has been demonstrated by a handful of leaders in history. Narendra Modi's name already stands in line with those leaders even as he continues to make history.
If this sounds like an exaggeration, consider just five lessons that his speech provides us:
1. The Art of Political Rallies : The last time anybody witnessed a crowd of a lakh-plus in Bangalore was in the days of Atal Bihari Vajpayee and team. This was during the BJP's period of ascendancy in the political firmament, more than 15 years ago. And now, just one man managed to draw over a lakh Bangaloreans out of their homes on a Sunday evening, majority of whom were ordinary people like you and me, fed up with the rot perpetuated by the Congress, who want a decisive leader. If done honestly, political rallies and speeches are an art form, as D.V. Gundappa writes in his Rajya Shastra. But thanks to Mrs. Gandhi and her brand of bus-biryani brand of "supporters," political rallies have become synonymous with cynicism and betrayal of trust. Narendra Modi has demonstrated that these rallies can be done well and honestly, and this is what continues to draw massive crowds to his speeches. This has been proved time and again, be it at SRCC, speeches in the Gujarat polls, the India Today Conclave, the FICCI, and now, Bangalore.
2. The Fine Art of Oratory : As I've mentioned numerous times in the past, Narendra Modi is perhaps the onlypolitician in India today who practices the fine art of oratory. Every single speech of his is delivered impromptu. No notes, no fumbling, no "I lost it again," no window dressing, and no empty promises. No leader since Independence barring Vajpayee has demonstrated the kind of clear articulation of ideas that Modi has. Nehru was an orator all right but his oratory was full of his "dreams" which translated into stifling socialism, the Kashmir problem, and the utter economic ruin of this nation. Dreams don't help a country progress, ideas, and their implementation does. We need no better proof of this than the stellar work that the NDA did, and what Gujarat has achieved under Modi.
A lakh-plus people, and the moment Modi got on stage, there was pin drop silence. It was almost on autopilot—the pin drop silence would resume after the audience went berserk with applause as Modi delivered one verbal punch after another, and then waited as he wove his magic again, hanging on to every word. It really isn't an exaggeration to say that Modi had literally mesmerized the crowd.
3. Credibility is its own Proof : Some sections of the BJP central leadership have never quite recovered from the double-drubbing the party received in 2004 and 2009 respectively. These sections have since remained content in their tiny islands of power localized almost entirely in Delhi. It is also moot exactly how many of these eminences have done any party work. Worse, they have also consistently displayed gross negligence in displaying a solid, united Opposition in Parliament. Each time the Congress handed scam after mammoth scam on the platter, they have simply made the right noises but have gone back into their stupor. And while they were in stupor, the Gujarat Chief Minister was busy fighting battles on all fronts by a determined and mounted opposition apart from delivering consistently good governance and development. This is how credibility isearned, and it is this credibility that draws those enormous crowds, and it is this credibility that has made Narendra Modi a darling in small towns in Kerala, Tamil Nadu, Haryana, and Bihar. What this also means is that Modi has emerged as the glue that holds together the numerous ugly divisions that the Congress and others have created.
This reminds me of the 7th Century poet-philosopher, Neelakanta Dikshita's verse:
yaaneva shabdaan vayamaalapaamah yaaneva charthaan vayamullikhamaha
taireva vinyasa vishesha bhavyaih ullsayantah kavayo jayanti
Here is a rough translation: The poet uses the same words which have the same meanings but the way he mixes and matches them produces delight to the mind. Let victory be to such poets!
Nothing illustrated the truth of this verse better than Narendra Modi's speech today. He said the same things, he picked the same issues, and delivered the same criticism that other BJP leaders did. However, he possessed what they lacked: credibility. In his voice, the very same words were endowed with an authority that drove the crowd wild with rapture. Indeed, he had to intervene and request the audience to allow a certain BJP MP to complete his turn of delivering the election speech! The MP in question represents the locality in which the rally was held. Like a lion which takes over any forest it steps into, Modi completely dominated this MP's turf. Indeed, he's managed to dominate the Congress turf of Delhi not once, but twice, and the Congress was left stunned, scared into silence.
4. Comprehensive Dynastic Demolition : Again, perhaps no leader since Independence has taken apart the Nehru-Gandhi Dynasty effectively, so comprehensively, so methodically, and so fearlessly. In this, Narendra Modi's approach too is shorn of rhetoric and based on facts. Instead of attacking Sonia Gandhi on her foreign origins, Modi has simply shown her for what she represents: every evil that the Congress has inflicted on this nation for more than five decades. And by refusing to even recognize Rahul Gandhi as someone of any consequence, Modi has altered the way the Congress needs to be looked at. And it's not just Sonia and her son. Modi hasn't spared that greatest makeup artist of all time, Pandit Jawaharlal Nehru. And none of Modi's criticisms were personal—he simply showed the world the record of the horrors that the Nehru and his dynasty has inflicted on India. Even at the height of the anti-Indira, anti-Congress wave—i.e., during the Emergency years—the worst criticism leveled against the Dynasty was purely on personal grounds. And even when the NDA was in power, it showed no interest in making the Congress pay for its past sins. Modi however, has showed that there is an alternate, and a more effective way of doing it.
5. The Power of Social Media : Today's speech was in many ways a reflection of the increasing power, reach, and influence of social media on almost all spheres of human activity. The collective applause, cheering, and other on-the-spot commentary emanating from the crowd was akin to Twitter hashtags: #paidmedia #pappu #namoforPM #namorocks and so on. I speak as an eyewitness: people were actually yelling these terms aloud at various points during Narendra Modi's speech. Equally, the Congress party has completely lost the social media plot. Hired party foot soldiers watching Twitter trends and trying to get in the game is actually proof of the fact that the Congress' social media strategy has bombed before it began. The support for Narendra Modi on social media isn't today's or yesterday's development. It is an expression of disgust at how the Congress has wrecked the nation, and equally an expression of the yearning of millions of Indians for a strong, decisive, no-nonsense leader.
It might sound harsh but the fact is that today's BJP election speech at Bangalore was more about Narendra Modi than about the BJP. Which should give reason for the party to take pride in: pride in the fact that it has produced a leader like Modi who has in the space of less than 3 years, rejuvenated the party, has taken the Delhi Sultanate head-on, knows the pulse of the people, and has emerged as perhaps the only hope for India.
Author : Sandeep Web, Follow the writer on twitter.com/SandeepWeb
Share Your View via Facebook
top trend
what next
IBTL Gallery