Vivek Oberoi bats for Hindu pilgrims, criticising government, Manav Aastha Foundation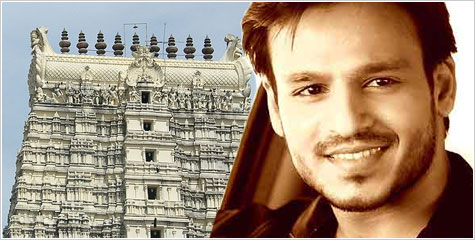 While sending out a written statement to favour the NGO, Manav Aastha Foundation, which organises pilgrimages for Hindus, actor Vivek Oberoi ended up criticising the government for not providing adequate facilities for Hindu pilgrims.
"...Every religion practised in India has a common belief that pilgrimages to holy mosques, temples and churches hold the route to salvation, bringing us spiritually closer to God,"Oberoi said in the written statement.
"Our government extends its support to the Haj Committee of India. However there is no political body, spiritual guru or NGO in India that has undertaken such an initiative for Hindus...until now," he added in the statement.
The statement has created a strong reaction among senior government officials. Some government officials also reportedly called up the actor and asked him to withdraw the statement.
But, Oberoi has not issued a fresh statement and his publicists also confirmed that he does not want to withdraw his statement.
— dnaindia
According to the Bhagvadgita when an individual completes the worldly responsibilities undertaking of the Char Dham pilgrimage is important to attain Moksh.
Manav Aastha Foundation an NGO in Mumbai announced a unique opportunity for underprivileged elders of the society called 'Moksh Yatra'. This pilgrimage was launched today September 15, 2011 by the grace and the blessings of the Education Minister Rajesh Tope along with the trustee of Manav Aastha foundation Suraj Samat. With this grand announcement the foundation also selected 51 pilgrims from Mumbai for their first yatra that is scheduled for September 24, 2011.
According to the Bhagvadgita when an individual completes the worldly responsibilities undertaking of the Char Dham pilgrimage is important to attain Moksh. Unfortunately, many elders in our country are unable to complete this Yatra due to their financial conditions or their children being busy with their own mundane life, and are unable to accompany their parents on such yatras.
Manav Aastha Foundation positions itself as a modern day Shravan by taking care of the entire needs of these elders who wish to complete the Char Dham yatra. 'Moksh Yatra' will cover the Char Dham Yatra i.e Badrinath, Rameshwaram, Jagannath Puri & Dwarka from September 24th which is considered extremely important in our Hindu scriptures. The first yatra organized by the foundation got an overwhelming response, where approximately 5000 applicants from across the state applied for this, out of which 51 yatris were selected for their Yatra. The entire ground work and verification of the applicants was undertaken by Nitesh Rane's NGO Swabhiman Sanghatana.
Suraj Samat of Manav Aastha who is also the man behind this unique idea says, "We at Manav Aastha constantly strive to get a positive change in the society. Moksh Yatra is just one such initiative that fulfills the wishes of a person who wants to make this journey but has been deprived of it due to several reasons. Therefore, we take inspiration from Shravan Kumar who left no stones unturned just to perform the duties towards his parents with regards to their spiritual journey. We shall do everything and make all possible arrangements for all those who cannot afford these yatras. Fortunately, we have many corporates coming forward to help us with this noble cause and soon expect the government also to support and make the necessary amendments with regards to pilgrimage subsidies. "
Rajesh Tope the Education Minister applauding the effort of the foundation said, "I congratulate Manav Aastha Foundation for conceptualizing and executing such a unique initiative called 'Moksha Yatra'. I am sure many underprivileged citizens can fulfill their dream of visiting places of religious and spiritual significance through this noble cause. My best wishes to all the members of Manav Aastha Foundation and Suraj Samat."
The foundation will be taking the Moksh Yatra one step further by requesting the government to start subsidy for the Hindu pilgrimage. The foundation has received letters from Chief Minister Prithiviraj Chavan, Deputy Chief Minister Ajit Pawar of Maharashtra, Nitesh Rane Founder and Chairman of Swabhiman Sanghathana and Milind Deora - Member of Parliament extending their support to this noble cause.
I applaud such a wonderful initiative and I encourage you all to support ManavAastha, the Manav Aastha Foundation."
Currently Manav Aastha's initiative is only across the state but by early next year they plan to take this idea further across the country and internationally. The foundation has tied up with Kesari tours for the entire travel and stay package which includes local transport, 1 Stroller bag and Pooja thalis. Other than Kesari, there are many other corporates like Pratibha Industries and Patel engineering who have come forward to support this noble cause in various capacities.
Source - indiainfoline
Share Your View via Facebook
top trend
what next
IBTL Gallery