Politics at the Ghats of Varanasi, Election 2014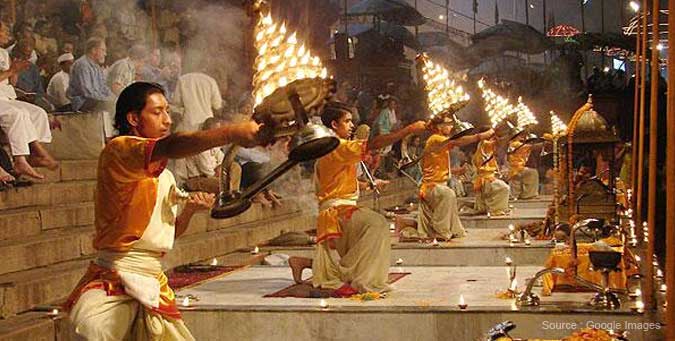 India's oldest city & one of the oldest continuously inhabited cities of the world, Varanasi will be the center of attraction for the next 60 days at least. It is not that Varanasi hasn't been at the center of prominence in the past. It has sent some very prominent leaders to Delhi. I shall tell the reason later but first take a look at some of the notable names who have represented Varanasi in past:
1) Chandra Shekhar (1977-80): Remained MP for just 3 years in a post emergency euphoria which lasted for just 3 years! However, he went on to become the Prime Minister of India, not as MP from Varanasi but from Ballia.
2) Kamalapati Tripathi (1980-84): Freedom fighter, journalist, editor & senior leader of Congress Party. Remained Union Minister for Railways twice & presented the Railway budget 4 times. It was under his tenure that Sabarmati Express, in which the 2002 Godhra Carnage took place, was introduced. He had been CM of Uttar Pradesh (1971-73), again not from Varanasi, but Chandauli.
3) Shyamlal Yadav (1984-89): Member of Parliament in the 8th Lok Sabha. It was only between 1988-89 that he was made Union MoS for Agriculture and cooperation for a year. He had been a member of Rajya Sabha from 1970-84 & was Deputy Chairman of the Upper House between 1980-84.
4) Anil Kumar Shastri (1989-91): Son of Lal Bahadur Shastri, he represented Varanasi in the 9th Lok Sabha. He is a special invitee to the Congress Working Committee while his son, Adarsh Shastri recently joined AAP (It's chief, Kejriwal has vowed to contest against Narendra Modi from the same constituency).
From the above examples it is clear that even though Varanasi has been represented by the tall & mighty of both, center & state leadership have represented Varanasi, it will be for the first time that it will be directly electing a Prime Minister nominee. This fact will be widely used by Narendra Modi in his campaign to tilt the voters to vote for him. This argument is so strong that it could find great resonance irrespective of caste & religious lines. Both, Somnath & Kashi Vishwanath are among the twelve Jyotirling's. Modi is a master at using such inferences to make an instant connect with the voters in his speeches.
Although, Modi's poll campaign will be entirely focused on development agenda, but even from a caste-equation perspective, Modi looks suitably poised. Varanasi has around 17% Dalits & 15% Brahmins. Being a General category seat & contesting from the Lotus symbol, these two will be the biggest supporters of Modi. The seat has 15% Muslims & 10% Kurmi's. While the Muslim vote will be divided between SP & BSP, Kurmi's in the past two elections have supported Apna Dal. Remaining 43% votes comprise of other smaller castes in the region. If last two elections are anything to go by, candidate who secures more than 30% of the total votes polled wrests this seat. However Dr. Murli Manohar Joshi won this seat in 2009 (30.52%) by a narrow margin of 17,211 votes from his nearest rival, Mukhtar Ansari of BSP (27.94%).
Mukhtar Ansari is under police custody from past 9 years (2005 onwards) for killing BJP MLA Krishnanand Rai. The murder was planned to detail. His assailants fired with AK-47 rifles killing 7 people on the spot. His body was riddled with nearly 21 bullets! His body was brought to Varanasi the next day for funeral. Ansari was housed in the Agra central jail & later shifted to Tihar jail in Delhi. Mukhtar Ansari contested the 2009 Uttar Pradesh assembly elections & is currently MLA from the Mau constituency. He has vowed to contest election against Modi too. Mukhtar Ansari is the grandson of Dr. Mukhtar Ahmed Ansari, former president of Indian Nation Congress & Muslim League during the Independence movement.
After having known the past history of Varanasi, let us get to the present political scenario. With Narendra Modi's candidature announced, others are yet to decide theirs. Even the very confident Kejriwal (latest kid on the political block) who vowed to contest against Modi, if the latter contested from a seat outside Gujarat (One of the most corrupt states by his own admission, yet not ready to fight from Gujarat) is half-certain. After clarity on Modi's nomination, Kejriwal has yet again done a U-Turn. He now puts it as: I will go to Varanasi but whether I fight or not will be decided after I meet the people there. Now whether this referendum will be like the SMS poll he did in past, or something like a voice vote of the parliament is yet to unfold. Any which way, Kejriwal's theatrics, lies, threats to media & U-Turns have become so nauseating that one can predict what he is going to do. Here are my guesses of Kejriwal's reaction to the election outcome:
i) If Modi wins by big margin: Money power won. Ambani/Adani (not Birla/Bajaj/Munjals, they are clean & hence never targeted) defeated me. 'It is not my loss; it is the people who lost'. He could then wave Ambani's swiss bank account number or break into Manna Dey & make him turn in his grave by doing a "Insaan ka Insaan Se Ho Bhai-chaara" in his melodious voice, while his brainwashed topi-brigade amplify this message even if there's no connect between the two events. He may then address media (the ones who ask his questions. Not the ones whom he's going to put in jail). Look at the ceiling/floor when interviewer asks him a question, sprinkle a lot of "sir ji" & a modulated soft voice to give an earthy "Aam-Aadmi" touch to be key features of his exclusive.
ii) If Modi wins by narrow margin: He will claim moral victory. Although, reasons explained above shall still stand true.
iii) If Kejriwal wins: Only under this scenario shall he concede that Ambani & Adani lost. He may direct Ashutosh to return every penny he got from what they term, 'corrupt-to-the-core Mukesh Ambani' as managing editor of IBN7. Also, any RIL shares which may have been held shall be returned. It looks highly impossible that Kejriwal may do any of those self cleansing acts, given that his broom is only for others, but what looks certain is: He may swear on his kids (yet again) that he'll neither take support, nor give support to the Congress party.
Kejriwal may play all the gimmicks he likes, but one thing must really scare him: In case his party wins a handful of seats & he loses, then it may lead to two power centers within AAP. Leader of the MP's within Parliament will be the default challenger to Kejriwal's leadership. Kejriwal is neither an MLA, nor a CM and nor will he be an MP to keep a check on his flock. Therefore fighting against Modi & losing could be suicidal to the extent that he may lose all that he has.
Deep down inside, even Kejriwal knows that has no chance against Modi. What he instead achieves is national coverage & a victim of the old school politics. This has been the crux of Kejriwal's politics so far: Criticize all - don't vote for any of the political parties - we cannot form government because we are not here to become CM/PM & run the country/state. This leaves us to ponder what does Kejriwal want the voter to do? Or is he on a mission to make India ungovernable in case a BJP led government comes to power? One is forced to think so because the man who kept corruption as his single point focus till a month back, suddenly changed the goal post & said that "Communalism is a bigger threat than corruption". Closely notice, it is the UPA which has been in power for past 10 years but Kejriwal's attack has been only at Narendra Modi & not Sonia Gandhi. He is contesting election against Modi not against Sonia. He has been demanding answers from Modi as if he has been in-charge of all the mess that took place in last 10 years under UPA (mis)rule. In fact, AAP hasn't even put a candidate against Sonia Gandhi. All this leaves very serious doubts about this man's real intentions. I sincerely hope, inhabitants of the oldest city of India can see through all of this & make a very informed decision. Because this time, it is their decision which will decide the direction of this country.
Share Your View via Facebook
top trend
what next
IBTL Gallery