How do you regulate or set guidelines for 'Cutting Chai' in 'The Nukkad'?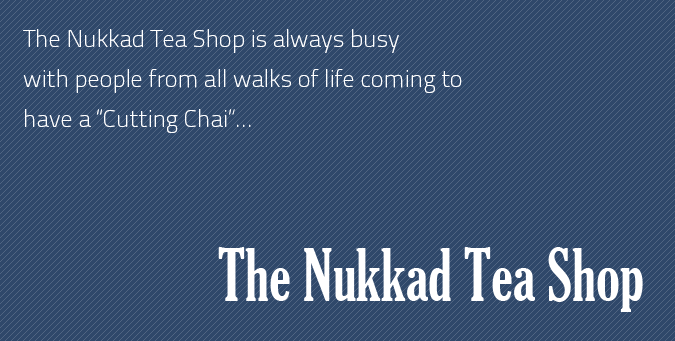 The Nukkad Tea Shop is always busy with people from all walks of life coming to have a "Cutting Chai". Current affairs, politics, sports & movies are the usual topics you can listen to people conversing. You will find everyone has an opinion or two on one or many of these subjects & seldom have you seen silent listeners or observers. The Nukkad is most happening place in any city, town or village. It has a potential to create a discourse but in the most unconventional way.
The Nukkad crowd is usually full of strangers who have no clue about what his other Tea Mate does or lives like. Its always about familiarity & the commonness of the topics that bring the Tea Mates closer to one another. Other the "Tea/Coffee" the quality that attracts these strangers together is their sense of anonymity. Most of them start recognizing each other only because they happen to see the same faces everyday at a particular time and have the same "Cutting Chai".
On a any given day there would be hundreds of people who visit the Nukkad for a tea and many of them engage in some discussion / gossip on various topics. None can challenge the other on content here unless & otherwise they have good references to back their arguments. Hence you will see an occasional squabble or two happening at these Nukkad's due to disagreements and either the warring factions outshout one another or end up being separated & sent away in two directions by some senior citizens or learned folks who are respected for their wisdom.
The above anecdote has lot of common with social media. In my opinion a social media platform like Twitter is just a reflection of our own Nukkad's which serve "Cutting Chai" to everyone without any prejudice. It's the people who visit the "Nukkad" for their daily dose of "Cutting Chai" who engage or squabble with each other. There is no way one can have a organized way of communicating at a Nukkad. It just goes with the flow & the company you chose to be with. Hence I find it absolutely stupid & hilarious that well learned folks on social media talk about regulating or putting in some guidelines to a medium which has no form, shape or any boundaries.
Infact the Nukkad's can be regulated because of their geographical constraints. Like a Nukkad can stop serving team between 10:00 PM and 05:00 AM to avoid disturbances to people living in and around. It's a physical, geographical constraint. What about social media? It has no physical or geographical constraints. Just like at a Nukkad you decide to engage with a stranger while having the Cutting Chai, you have to make your choices on social media too. There is no one forcing you to engage there. Its one's own prerogative as to how one behaves or engages. There is no way the governmental social media regulations or guidelines gonna work. Its all about self discipline & self regulating.
Share Your View via Facebook
top trend
what next
IBTL Gallery