A Virtual Tour, Gujarat Govt Preserving Rich Buddhist Heritage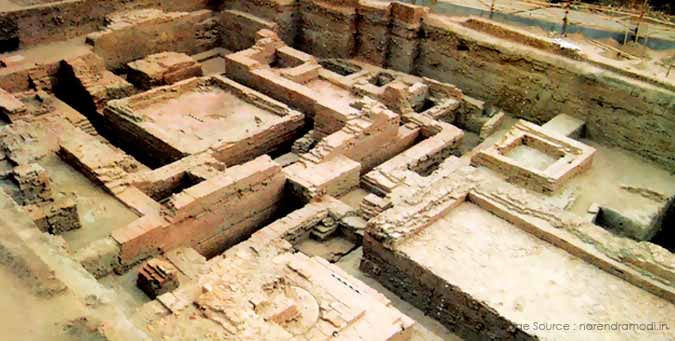 Vadnagar: In 2009, Gujarat State Archeological Department had discovered remains of a Buddhist monastery in Vadnagar which is the home town of Shri Narendra Modi. Hieun-Tsang, a famous Chinese Buddhist Pilgrim had visited Vadnagar in 640 A. D and noted existence of 1000 Buddhist Monks, and 10 Buddhist Monasteries in Vadnagar. He also found important Buddhist center with Viharas. The idea of archeological excavation in Vadnagar was moved by Shri Modi, he had judged Vadnagar as a prolific site for archeological excavation in early days of his life when he was resident of Vadnagar.




Vallabhi: Ancient references indicate that in the 7th Century A. D., Vallabhi was one of the significant Hinayana Buddhist universities and was comparable to Nalanda's Mahayana Buddhist University. In Vallabhi, Hieun-Tsang had confirmed presence of about 100 monasteries accounting for around 6000 Buddhist monks and also found foreign students in Vallabhi University.

Devni Mori (Sabarkantha): Devnimori was an important Buddhist monastic center 1600 years ago. A huge site consisting of Stupa, Chaitya and Vihara is found on the river Meshwo near Shamlaji. The relics consisting of stone casket having original names of Gautam Buddha with detailed inscription were found from Devni Modi.

Junagadh: One of the best examples of the Buddhist ideologies is found at Ashokan Rock edicts. It contains inscriptions of three dynasties which speak the great popular faith and its healing power to convert the King. Khapra-kodia caves are datable to 3rd-4th century A. D., it is a group of 10 shelters made in rock cut style, used by Monks as a monsoon shelter. Apart from these Upperkot caves and Baba Pyara caves are known as Buddhist archeological sites in Jungadh.




Khambhalida Caves: Located near Gondal in Rajkot, Khambhalida caves is the only site with perfectly identifiable carvings of Boddhistava. It was probably a worshiping site for all surrounding people having faith in Buddhism and therefore, it is one of the rarest sites, as most of the monasteries were residential quarters.




Talaja Caves: About 32 kms from Palitana (famous pilgrimage for Jains), lies Talaja. The most impressive structure in Talaja is, the Ebhala Mandapa – a large hall fronted by four octagonal pillars. A group of 30 caves is nestled in the middle of hillock that was primarily used during monsoons for 4 months resting period.




Sana Caves: The remains of Buddhist establishment of Sana, is located in Amreli District near Rajula. Believed to be among the earliest caves of Western India dating from 2nd century B. C., the most interesting group has Ornate Carvings and Stupas, Rock Cut pillows, Benches and Chaityas. There is a hill in Sana that has 62 rock shelters scattered at different levels.




Siyot Caves: Located in Lakhpat Taluka of Kutch, Siyot must have been one of the 80 monastic sites that the 7th century Chinese travelers reported at the mouth of Indus River. It is believed to be a Shiva Temple before the Buddhist Monks occupied the caves.




Kadia Dunger Caves: 7 caves and monolithic lion pillars are presently found in Kadia Dungar in Bharuch District. The caves are located at the highest altitude having the figures of elephants and monkeys inscribed in it, also, some inscriptions in Brahmi language are found in the caves.




Modi himself has taken keen interest in the activities and has made the Government machinery work, to develop these Buddhist sites as a tourism circuit in par with international standards and promote them globally.
Share Your View via Facebook
top trend
what next
IBTL Gallery