Sardar Patel - The architect of modern United India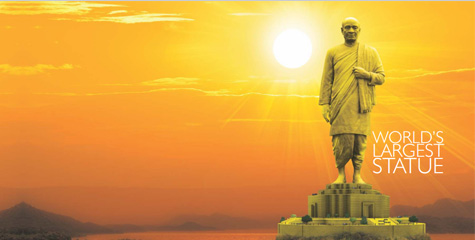 Ahmedabad, Thursday: Sardar Vallabhbhai Patel Rashtriya Ekta Trust (SVPRET) today considered connecting Vadodara with the proposed Statue of Unity to be built on the Narmada near the Sardar Sarovar Project (SSP) dam site with a Metro Rail and six-lane highway.

The SVPRET expects one lakh tourists per day to the ambitious project and hence the Metro and Highway projects. Other features of the project, besides the 182-metre high statue of Sardar Patel, touted to be world's highest, include a bridge from Kevadia Colony to the statue, convention centre, memorial garden, amusement park and a hotel.

The meeting presided over by Gujarat Chief Minister Narendra Modi decided to handover project management and construction management of the ambitious project, estimated to cost Rs.2,500-crore, to a world-class consultant. Six important studies, including total survey of the project, variation in water level and high flood level, wind and water velocity, seismic survey and model study and mathematical analysis of Pune have been completed, while that on environment effects is on progress.

Meanwhile, work order has been placed for constructing Garudeshwar weir on the Narmada river downstream Sardar Sarovar Project (SSP) dam. In another, it has been decided to develop both the banks of Narmada river and also the Bhadbhut Canal from the SSP dam site to Bharuch up to the seacoast.




The trust resolved to fulfill the dream of iron man Sardar Patel and complete the SSP project, with Chief Minister Narendra Modi having taken the height of the dam to the crucial height of 121.92-metres to generate 1,950 MW of electricity and the world's longest 458 km canal during the last ten years.

The meeting took note of the Chief Minister's dynamism to take forward 2.200-km canal-based drinking water pipeline, besides Narmada branch, minor and sub-minor distribution canals. His latest initiative to build solar power project on the canal as a unique concept.

Prominent among those present at the meeting included Revenue Minister Anandiben Patel, Urban Development and Water Resources Minister Nitin Patel, Chief Minister's Adviser B. N. Navlawala, Chief Secretary A.K. Joti, Sardar Sarovar Narmada Nigam Limited Managing Director S. Jagdeesan and others.

Click here to see more IMAGES ....
Share Your View via Facebook
top trend
what next
IBTL Gallery