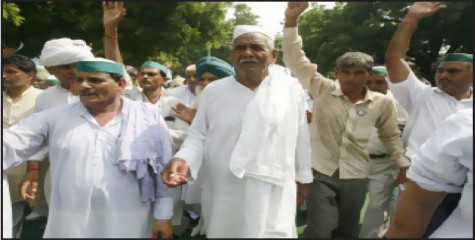 The traditional farmer wisdom that land alone protects the family from starvation. Compensation disappears easily in fixing the roof, paying engineering college fees, or getting a daughter married is significant. Worse, as most village land is the joint property of an extended family, the division of monetary compensation leaves them with nothing, asserts Sandhya Jain.

Indian agriculture lost one of its most cogent voices at a time when the farming community nationwide is facing the growing menace of State-driven expropriation of land for crony capitalists. This trend, which we may designate as the corporatisation of private property, parallels the other disturbing tendency towards the privatisation of public resources; both may jointly be said to comprise the Indian face of Globalisation.

Mahendra Singh Tikait emerged in the public arena in October 1986, to articulate a growing need for modern amenities to make farming productive and remunerative. As founder of the Bharatiya Kisan Union (BKU), he called a panchayat at his native village, Sisauli, and led a movement against increased power tariff in April 1987. Over three lakh farmers gathered at Karmukheri power station in Muzaffarnagar district, UP, compelling chief minister Veer Bahadur Singh (Congress) to roll back the hike.

Shunning politics, Tikait championed the genuine interests of farmers in Uttar Pradesh, Haryana and Rajasthan. He cordoned the office of the Meerut divisional commissioner for 25 days in January 1988, and subjugated the Rajiv Gandhi government with a stunning seven-day dharna at Boat Club, Delhi, in October 1988, when five lakh farmers swamped the area from Vijay Chowk to India Gate. The Centre accepted his demands, which included higher prices for sugarcane and waiving of electricity and water charges for farmers.

Tikait's approach of facing the Central or State leadership head-on, and refusing to be drawn into political alignments that could limit the spread and efficacy of his struggle, could have served his people well in the current struggle against forced acquisition of fertile farm land for corporate-driven development projects. But the doughty warrior lost a painful battle to bone cancer on 15 May 2011. The challenge before his heirs is to reverse the policy of alienating agricultural land for non-agricultural purposes.

What needs changing is the Land Acquisition Act of 1894,whereby government (then the British Raj) can forcibly acquire private property for what it calls a "public purpose". This needs to be clearly defined. We cannot allow state governments to wantonly appropriate the land of farmers, first for Special Economic Zones which gave favoured industrialists land banks to develop mini-cities instead of merely adequate land for a specific industry; and now for shopping malls; housing colonies, and commercial complexes.

The core issue is protection of fertile land, particularly along waterways. We must recognize that financial compensation, no matter how adequate in terms of contemporary market prices, cannot offset the loss of the most fertile lands along the Ganga & Yamuna rivers to soil-killing concrete high rises. The mindlessness with which the Centre & state governments have embraced this 'development' formula threatens national food security.

In the early decades of independence, government acquired land only for projects undertaken by government. While affected groups could have legitimate grievances regarding compensation – because socialist rhetoric kept compensation packages low and civil society activists and fair-minded judges were still in the future – there was no malice in depriving the affected peoples of their land. Land acquired for thermal or hydro- power projects; for satellite launches; army firing ranges; roads and highways; fell in this category.

Things changed with Liberalisation. Instead of a level playing field where free market could get them the best prices for their land if they wanted to sell, industrialists began to use friendly politicians and state governments to forcefully acquire huge tracts of land for profiteering at the cost of the ordinary citizen. Thus, a businessman wanting to set up a steel plant did not want land adequate for the steel mill, but huge surplus tracts that could be 'developed' to commercialadvantage by building shopping malls, hotels, housing estates, office complexes, golf courses, and what not.

Most of the Indian countryside has already been irreparably ruined by this contractor-driven growth. Readers who have villages to visit on holidays have only to recall the halcyon days when farmlands and large trees dotted the roadside as one left the major cities to realize the extent of industrial encroachment upon the environment.

When Congress MLA Kuldip Bishnoi raised his voice against the forced acquisition of farmers' lands for a SEZ for a leading Mumbai industrialist, the party high command swiftly cut him to size. But protests spread in other parts of the country – even though the Courts found it prudent to remain mute – until finally the then Goa chief
minister decided that he would not permit any of the three SEZs cleared for his state to take off.

But by then the crony capitalistshad tasted blood, and the malaise of being 'friendly' to industry became endemic. The madness reached its apogee in Singur, West Bengal, when the state government felt it was its public duty to forcefully acquire farmers' land for aprivate company which felt aggrieved when the effort failed.

Regarding the current conflictin Uttar Pradesh, there is no justice in forcing farmers to sell land at Rs 850/sq.m. and allowing a private contractor to make Rs 30,000/ sq.m. This is outright loot – another 2G in the making. The protesting farmers insist they had no idea that their lands were being used to build townships – an enterprise that could easily have been conducted in non-fertile, degraded lands elsewhere, and not alongside the Yamuna.

Equally pertinent is the traditional farmer wisdom that land alone protects the family from starvation. Compensation disappears easily in fixing the roof, paying engineering college fees, or getting a daughter married. Worse, as most village land is the joint property of an extended family, the division of monetary compensation leaves them with nothing.

The silver lining in the high drama at Bhatta Parsaul, Greater Noida, was Ms Mayawati's agility in disproving Amethi MP Rahul Gandhi's allegation before the Prime Minister that 74 persons had been burnt alive in 70-feet-wide ash mounds, women raped, and houses set on fire by the UP Police. The UP chief minister called the Central Forensic Science Laboratory to take samples for testing; the media rushed to the affected village but could not substantiate the story. Soon CFSL said the ash was burnt cowdung – no bones, no explosives! A red-faced Congress had to deny the scandal as a media 'misquote' two days later, but by then the PM-in-waiting had nixed his claim to the august office. Dr Manmohan Singh must be enjoying a quiet laugh.
Share Your View via Facebook
top trend
what next
IBTL Gallery