Politicians have failed this country: – Gurumurthy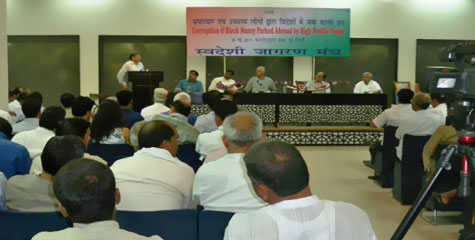 Politicians belonging to both ruling and opposition parties have failed this country. While ruling party has successfully handed over the fight against corruption to non-political element thereby making an essentially political issue a moral issue and escaping punishment; opposition parties have failed in making it a political fight thus allowing ruling party to go scot free.
These observations were made by All India Coconvener of Swadeshi Jagaran Manch and leading corporate advisor Sh. S. Gurumurthy in a seminar organized by SJM in the national capital Delhi. SJM has been in the forefront of fight against corruption from the very beginning. The seminar was organized as a part of this long drawn battle. Subject of the seminar was "Corruption and Black Money parked abroad by high profile people". Former Lt. Governor of Delhi Sh. Vijay Kapoor presided over and Sh. Muralidhar Rao, former national convener of SJM and at present national secretary of BJP and Sh. Baijnath Rai national secretary of Bhartiya Mazdoor Sangh were other speakers on the occasion.
Talking about prevailing confusion about anti-corruption movement in the country Sh. Gurumurthy asserted that as a strategy to divert the issue ruling party has been successful. in making a profoundly political issue as a non-political debate. The fight thus was strategically de politicized. He was emphatic in saying that "you can't talk about corruption without talking about who the corrupt is." 'Corrupt has to be brought to book', is a moral statement while unseating and punishing corrupt is political, he asserted. Sri Gurumurthy said that the present anti-corruption movement is hijacked by the GOI itself with the blessings of Sonia Gandhi,. An anti-corruption movement has to be against the govt and not anybody else. The opposition has to take the lead in such a movement, which unfortunately is not the case currently, he claimed.
Gurumurthy described the fight against corruptionas a war between good and evil, and likened it to Mahabharata. He asked people to make an essential difference by not equating it with the fight between good people and evil people.
Reminding participants about Mahabharta the learned speaker said that the Great War fought centuries ago also was a war between good and evil and not between good people and evil people. He continued to point out that in Mahabharta also there were a lot of good people on the side of forces representing evil. While several bad elements were fighting alongside righteous people. War strategy has to be aimed at winning and alliances too are made with all those who agree. In recent times Jayprakash Narayan was able to forge such an alliance without unnecessarily caring for the past record of those who joined his fight. He pleaded to ensure that the rulers did not escape punishment by making the fight against corruption as a moral fight only.
Lamenting upon the Sonia led congress government; Gurumurthy observed that the ruling party has a vested interest in not revealing the names or bringing the black money back as real big names are involved. Talking about the Status of Black money abroad he said that during 2009 Lok Sabha elections, Congress Party, refused to even acknowledge the presence of Black money abroad. People like Pranab Mukherjee and Jairam Ramesh rubbished all claims by Individuals and various other leaders as 'mostly bogus sources'. But when public pressure started mounting Congress did a flip flob of claimed that it only will bring the money back.
The German government that had secured the information was willing to give the details of the secret account in Liechtenstein to GOI. However, the GOI never requested such information ever and continously denied presence of any such 'Black' money. But then Global Financial Integrity, a Public Policy Think Tank in Washington DC, researched and reported that an estimated $462 billion of India's illicit assets were held abroad. 67% of this amount was stashed in last 18 years, i.e after liberalization. (Report on Indian unaccounted money abroad -india.gfip.org
Talking about the difference between the black money kept within the country and that stashed away,he asked people to make the essential difference between two. While black money kept within the country's a statement of no confidence in government and that stashed abroad is expression of no confidence in the country itself and amounts to treason.This huge amount of money kept abroad deprives the nation to use it for poverty alleviation, employment generation and other economic development projects, he continued.
Citing figures, the learned speaker said that the myth that oppressive tax regime was generating more black money stands exposed as more than 72% of Indian black money stashed offshore has gone out of country during so called soft tax regime. Liberatisation process started in 1991 resulted in more money being siphoned off, he observed. Talking about the generation of black money and the reason to send this ill gotten money abroad Gurumurthy opined that the only reason behind this crime is to hide the identity of the people involved and not evade taxes as is being made to believe. Businessmen will prefer to invest money in India as the returns are attractive here as compared to other countries. It is high profile people like politician, Civil Servants and Babus who feel that revealing their identity will damage their standing in public. Who are sending the money out of country.
There are 70 tax havens in the world today. 8Lakh 23 Thousand comapnies are registered in the British Virgin Islands. In the 1980's the Western countries encouraged the third world countries to stash money in tax havens as they could earn profit out of it. Later politicians, criminals took advantage of the mechanism. Black money is not an issue with the west, as for them they are fine collecting the taxes on it. India has to get the black money back, Gurumurthy asserted.
Listing the case of Hasan Ali, he said that everyone knew whose money Hasan Ali played with. When his name is closely associated with congress leadersand Sonia's mosttrusted Lieutenant Ahmed Patel, one cannot expect action on this front. It is only after the court supervision in 2011 that the government agencies have started acting. But the period between 2007 and 2011 has given Ali and his patrons four years to hide the money somewhere else.
The past L.G. of Delhi brought forward the issue of not only averting the issue but diverting the issue on various disguise. He explained that the present law is effective enough to fight the present form of corruption. But the government is averting and diverting in the form of Jan Lok Pal Bill. That the present government has no intention of booking corrupt people although it has substantial proofs against them.
Murlidhar Rao ji the past Convener of Swadeshi Jagaran Manch stressed on the need of government to take action on the present charges and come clean over the issue of corruption. He stressed the need of action plan and not plain speak as it is happening with the current government.
Charity begins at home was the message been given by the Baidyanath Rai – Bhartiya Mazdoor Sangh Activist and Leader and that the national character has been degenerated by the government. We need to look in ourselves and seek an answer.
– Gurumurthy
Share Your View via Facebook
top trend
what next
IBTL Gallery