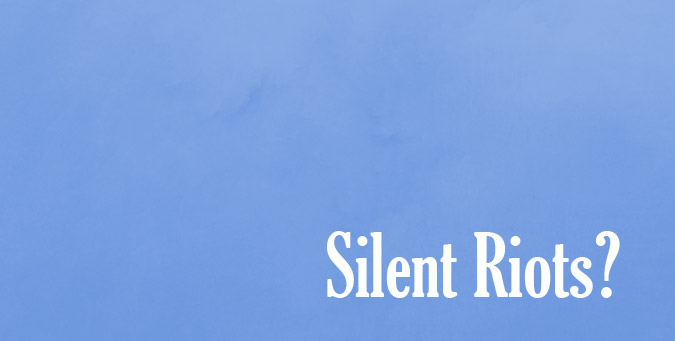 A riot is any chaos that disrupts normal civil life. Literal meaning says that they often result in a sudden and intense rash of violence against authority, property or people.
Can riots that massacre in the sulk of darkness can be called as "Silent Riots"?
Everyday killing of innocents completely due to negligence remains inconspicuous. Not only this, but our protectors are befooling us with their sugar coated statements. Scams, mass killings, malnutrition, suicides, rapes, murders, seem to be a part of our daily life now. Why are we suffering harassment of such a delinquent attitude. Who is responsible for all this?
In news, we come across various such reports and ignore them because we are not one of them. Take a pause and think, what if tomorrow we are on the other side. Then no one, but we ourselves will be responsible for our misery. Let us take a look to a few of the short comings that we have tried to sum up.
Ø Starting with blossom of every family ~ Children.
Experiencing parenthood is that superlative moment of life which marks the beginning of a new era. Ask a mother who dreams about her sprout, but gives birth to a still born. Nothing can be more hurtful to her than this. Sad to say that our country has the highest number of still born deliveries.1 Reason for this is low maternal nutrition, lack of vaccination and improper healthcare facilities. Not only this, lucky one who survives can also succumb to illness later in life due to one of the above mentioned reasons. Sample study conducted by I.C.M.R., India says that government is unable to cover not even a single state with 100 percent immunization under National Immunization Programme. It is even as low as 37% in Bihar.2 More horrifying is that a hospital like Safdarjung in Capital is insufficient in providing ventilatory support and is responsible for death of 8200 children in last 5 years.3
Nutritional status of children is not at all delightful. The World Bank estimates that India is ranked 2nd worldwide with 47% of children suffering from malnutrition. It is estimated that four children die every minute from preventable diseases like diarrhoea, typhoid, malaria, measles and pneumonia.4
Child labour is another threat.
Children of school going age are working in small scale factories, shops and houses. According to census 2011, there are 12626505 children engaged in child labour.5 Figure is slightly above than that was recorded in 2001. Barely any action has been taken or any check have been implemented.
We agree that the government is taking steps in forward direction but too little has bee done on ground to counter these menaces of our society. Basic health facilities in local hospitals can be improved by the funds allocated to them. Lacs of rupees are returned to state/national government rather than spending them on better facilities. Typical mentality of the officials is that who will face the turmoil of the auditors. Why is this money churned between hospital and government there by hampering the life of poor and innocent? No step has taken against people who are engaging children in child labour. Irony is that small bribe makes officials blind.
Ø Peasant: Bread producer of India.
Cereals, vegetables and fruits constitute major portion of our diet. 60% people in India directly or indirectly depend on agriculture. One reason it is the gamble of monsoon, other side speaks aloud drawbacks of government. Low productivity is one of the major problem faced by the farmers. Poor infrastructure in rural areas affect timely supply of inputs and transfer of outputs from farms. Even after 60 years of Independence, the irrigation system of or country leaves a lot to be desired . Crop failure in some part of our country is due to lack of water whereas regional floods also play their role in some other parts of the country. Poor seed quality, inefficient farming practices, lack of cold storages and harvest spoilage cause over 30% of farmer's produce to go into waste. Lack of organized retail and competing buyers limit farmer's ability to sell surplus and commercial crops. Required level of investment for development of marketing and storage infrastructure is huge and is not efficiently administered.6 Government has not been able to implement various schemes to raise investment in marketing infrastructure partly due to political controversies and corruption. Money designated to spend for agriculture is digested at all the levels of hierarchy. Farmers are deprived of electricity whereas VIP places are lit as festivals every evening. Government plays political cards on water distribution for its vote bank. Poor farmers are either left in poverty or our bound to commit suicide as the only option in extreme cases.
Ø Unnatural Deaths
Shameful to say but our country holds good qualification in bomb blasts, terrorist attacks, murders, rapes, acid attacks, accidents and stampedes etc. Every new government assures to fight more effectively. But counts are expanding with each passing year. However, an exponential rise in all these cases past 10 years has put a question mark on present government. Our Hon' Home Minister blames the countrymen from a particular community for blasts and terror attacks. This is a serious doubt on intention of government to tackle the issues over vote bank politics. Giving an indecent remark, hurting religious sentiments, is a crime according to our constitution under section 295, but still the government is backing it.
Crime against women is dilating both in numbers and severity. The government assured strict law for the same which surprisingly did not cover politicians. Constitution drafters clearly mentioned that legislatures are given some relaxation so that they can work in tension free environment. In case of guilty, they should be executed according to the law. Somehow, they are misusing this liberty by molding it in their own pretty way. We all are aware that politicians and their kin are part of this filthy crime. Power and money is victimizing our daughters, sisters and mothers. Then why government is hesitating in bringing the change? Is this the security they were talking of ?! 7
Recently, so called Allahabad Maha Kumbh stampede was not less than a crime committed by the police men.8 Instead of relief work, blame game was started between railways and the state government.9
Why cannot the area of four railway stations Haridwar, Allahabad (Prayag), Nasik and Ujjain be expanded permanently? Why not extra dharamshalas, guest houses are built in these cities? Probably, because they cannot be auctioned later on to earn more black money! Crores of money is wasted on VIP abroad trips, luxuries but the governmenmt is always short of money for common man.
Swelling scams have no end in this reign. List is endless! One cabinet minister says that the monetary loss in scams is not the actual loss but a hypothetical figure calculated by CAG. We all know about inflation trend in last few years. Loss beared in scams leads to less influx of money. Funds are gradually decreasing and to compensate it, tax rates and basic prices are increased. Subsidies are reduced where as there is hike in prices and poverty index .
If scam money comes into monetary circulation, government revenue will increase. There will be enough funds to feed the country. This will result in deflation, employment and hopefully some rise in GDP.
We are not here to criticize. But take it as a small jolt to our sleeping brains. We have given them 10 years to govern us. Not even a single sector has witnessed development. Crime is at all time high. 70% of people are unaware of laws and their rights. There is no need to pay or take bribes if we work according to the rules. Constitution has guaranteed us ample security from such contaminations. But lack of knowledge is drifting us in this whirlpool.
Every move by government of secular country has a shadow of communalism. Why they never address us as citizens of India? According to them, nationalist organisation are being tagged as breeding centres of "Saffron terrorism" to consolidate the minority vote bank. Wake up Nation, stand together to fight this. Just by being easy with you in your protests, they are not ameliorating you. Loss in scams, corruption, crime, negligence is faced equally by all the communities. All of us are despoiled equally. No benediction is provided separately to any religion or caste. It is one Nation and one soul.
Why our constitution is ripped off every day? Span of UPA: first three years with fake promises and the next two years dealing with "Who will be the next PM?" At what time was our government sincerely devoted towards the nation? Ruling party was busy celebrating in 'Chintan-shivir' where they only discussed about elevation of congress and not the nation. This clearly reflects the intentions of our government.
Criticizing Chief Minister of a particular state for riots, even after he got clean chit by Hon' Supreme Court, putting up the false allegations of zero substantial development is obnoxious. Why is government of Maharashtra not rebuked for Mumbai terror attack? Why the media and various apex authorities does not look with impartial eye towards country as a whole. Quasi judicial official giving an invidious statement, drenched in politics is highly despicable. Why non-congress states are always targeted? Is it not the responsibility of the centre government to fill up the pits if any? Centre government carries equal share if a state is lagging behind and it is the duty of government to make sure that the state is at par with the growth of the country. Blaming a state individually is abominable and substandard.
Nation will only progress with integrity and oneness. To cast vote is our duty for our progress, prosperity and enhancement. Wake up for nation, our motherland.
Clear your throats and raise yours voices. Jai Hind !!
Author : Shweta Puri | Follow the writer twitter.com/drshwetapuri
References:

1. India has highest number of stillbirths, says Lancet study. [link]
2. Sample study [link]
3. Ventilators not functional, 8200 children dead in Safdarjung Hospital in last 5 yrs, reveals RTI [link]
4. "World Bank Report". Source: The World Bank (2009). Retrieved 2009-03-13. "World Bank Report on Malnutrition in India"
5. Child Labour: India's growth story [link]
6. Agriculture marketing India.gov Retrieved on- February 2008
7. Justice JS Verma Report on Amendments to Criminal Law [link]
8. Eyewitnesses blame it on lathi charge. [link]
9. Centre, State Govt play blame game over Allahabad stampede [link]
Share Your View via Facebook
top trend
what next
IBTL Gallery