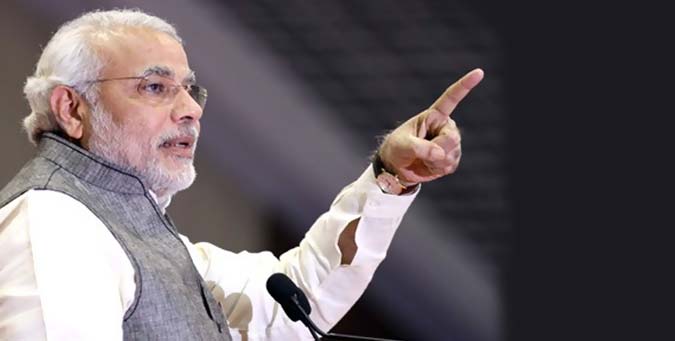 No army can stop an idea whose time has come. Alas! However a group on Facebook feels that it has been successful in running a campaign to Ban Narendra Modi From Speaking At Wharton. Though they have been successful but there's more than meets the eye.
The moment you access this "closed" group community page, you are greeted with a line which urges all its (handpicked/strictly by invitation) members to see Ania Loomba's post written in ALL CAPS. There's an English saying: Your friends are your introduction. So I headed straight to Ms. Ania's Facebook profile to checkout her friends list. I have the following observations to make:
# One of them friends happens to be Siddharth Vardarajan (Editor, The Hindu).

# Another person in that list is Ms. Sania Hashmi. I went to her profile & checked out the people she is "following". There were only two. One of them happens to be Ms. Teesta Setalvad.

# One more friend of her's, Amba Sanyal has added Amartya Sen in her "likes".

# One of her friends & also a signatory to the petition is Ms. Kavita Krishnan (Secretary, AIPWA). AIPWA is a women's association of the Communist Party of India (Marxist-Leninist) Liberation.
# Another interesting name who is a signatory of this petition is Mr. Surinder Singh. He goes by the handle @mrhindian on twitter & is known for his hatred torwards BJP, RSS & especially, MODI. He doesn't spare even ex-PM's like Vajpayee.
Gujrat Ka Kutta Aaj Phir Bhoonka #Modi

— Cool (@mrhindian) March 3, 2013
@true_indian47 Please Uese #RIPBJP

— Cool (@mrhindian) March 3, 2013
@calmgalinRSS Work As Informer For Britisher Against Freedom Fighters .Even Atal is Informer

— Cool (@mrhindian) March 1, 2013
Why isn't he in jail for this hatred is anyone's guess. Wharton surely is setting an exemplar Apart from a host of Congress party office bearers, he is "following": Sanjiv Bhatt, Shabnam Hashmi & Ajit Jogi.
The anti-Modi group has handpicked such exemplar's to sign this petition & Wharton instead of standing up to such hate-mongers & set an example to its students has unfortunately kneeled before them.
After this, I went through the text of their petition & was mighty disappointed. Modi critics are getting so predictable. That same old 2002 riot mumbo-jumbo & the US visa rhetoric formed the basis of this petition. Though Modi never applied for any US visa nor did any court in India find him guilty of any of the crimes he has been charged with (& still continues to be), by the anti-Modi brigade. In fact, the Supreme Court appointed SIT has given him a clean chit.
Has this group (or any group for that matter) ever done a similar campaign against the Gandhi's for the 1984 genocide? It was much more brutal & heinous. Why has this group never done any such campaign to stop Sonia or Rahul Gandhi from entering USA?
The Tytler's & Sajjan Kumar's were given important roles in the government & Congress party. They still have Congress membership & given important responsibilities till date. Why do the wheels of justice become selective?
Anyway, moving forward, I moved to the Wharton clarification as to why it cancelled Narendra Modi's keynote address. It states: We do not endorse any political views and do not support any specific ideology.
Isn't this statement by Wharton self contradictory given the kind of people who signed this petition making their political & ideological leanings quite clear? Why has Wharton overlooked at their political/ideological leanings?
The Wharton statement continues: However, as a responsible student body within the University of Pennsylvania, we must consider the impact on multiple stakeholders in our ecosystem. Our team felt that the potential polarizing reactions from sub-segments of the alumni base, student body, and our supporters, might put Mr. Modi in a compromising position, which we would like to avoid at all costs, especially in the spirit of our conference's purpose.
It requires no further explanation to prove the credentials of the stakeholders involved in this Ban Modi campaign.
As far as the alumni base is concerned, majority of the signatories are not even from the Wharton School or UPenn. Only a minority fraction of them belong to it. So which alumni base is Wharton referring to? They must come clean on it.
Some of the prominent members of its alumni which ought to be mentioned here are as follows:
1) Kanishka Singh. A close associate/friend of Rahul Gandhi.

2) Sachin Pilot. A minister under the present central govt & MP of the Congress Party.

3) Vikram Chatwal (Son of Shri Sant Singh Chatwal). Shri Sant Singh ji was awarded Padmabhushan by the present govt on Jan 26, 2010.
4) Rajeev Gowda: A PhD from Wharton in Public Policy, he now runs a website which is pro-Congress along with the other co-founder, Sanjay Jha. They both appear on news channels these days defending the Congress party.
Even if we keep all this aside, some very pertinent questions need to be addressed:
1) Is it right to stop a democratically elected CM of an Indian state from addressing people at any function/seminars? Tomorrow, if the same is meted out to a democratically elected PM or any other leader, would that be correct?

2) We may like/hate Narendra Modi or his politics but is it right to block anyone's freedom of speech?

3) I remember PV Narsimha Rao asking Vajpayee to present India at UN because of his exemplary oratory skills. This shows that outside India, we must do away with internal petty political differences & keep our country above everything else. Should we take our internal disputes at international platforms? Aren't we giving them an opportunity to interfere in our internal matters? And most importantly, is this the picture of India we wish to present globally?
In my honest opinion, had Modi been allowed to give the keynote address, the general public & media at large, would not have carried it the way they are doing it now. As always, by keeping quiet, Modi has yet again turned this issue to work in his favor. Every media channel is talking about it. Many of the influential in media & intelligence agencies who have been open critics of Modi are supporting him & condemning the act of this group by not letting him speak. Soon after the news broke, Wharton was trending on twitter.
He is making news over an event which he shall not attend. His critics may gloat & celebrate but they don't realize that their immature action has just widened his support base.
In the end, one can only say that there is one man in Gujarat who must be comfortably sitting in his chair & having the last laugh watching all this. His fans ought to be doing a NaMo Namah.
Author : Sumeet | Follow the writer on twitter/sumeetcj
- - - - - - - - - - - - - - - - - - - - - - - - - - - - - - - - - - - - - - - - - - - - - - - - - - - - - - - - -
Disclaimer: The author is a commentator on issues of national interest. These are his personal views and do not necessarily reflect IBTL's opinion.
- - - - - - - - - - - - - - - - - - - - - - - - - - - - - - - - - - - - - - - - - - - - - - - - - - - - - - - - -
Share Your View via Facebook
top trend
what next
IBTL Gallery