SIT submits closure report in Zakia Jafri case, sources say no role of Modi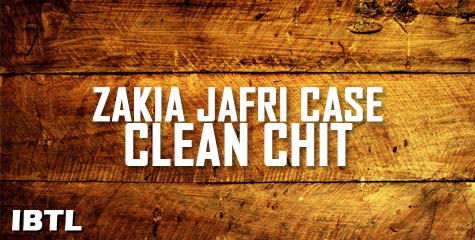 The Supreme Court-appointed special investigation team (SIT) is believed to have given a clean chit to chief minister Narendra Modi over allegations of his involvement in the 2002 riots. In its final report submitted to the metropolitan court, the SIT has filed a closure summary against Modi and 62 others accused by Zakia Jafri, the widow of slain Congress MP Ehsan Jafri, the sources claimed. Supreme Court had asked the SIT to probe Jafri's accusation that the Gulbarg Society massacre was the result of a conspiracy. The SIT, headed by former CBI chief R K Raghavan, however, concluded it could not find any prosecutable evidence.

Zakia is largely believed to be acting with the backing of Congress party who's a sworn enemy of Narendra Modi, who's been winning elections after elections virtually leading Gujarat Congress to death. Last year, the Supreme Court had refused from passing any order on Zakia's petition and had asked the trial court to decide on the case on the basis of the SIT's report. Earlier, Zakia had sought to lodge an FIR against 63 persons, including Modi, to the DGP, but since it was rejected. Subsequently, she had moved the high court. Justice M R Shah had directed her in 2007 to file her complaint before a magisterial court, but she had chosen to move the Supreme Court.

Now, with the report filed, it removes one for perceived hindrance in Modi's march to becoming the tallest leader of the nation.
...
Share Your View via Facebook
top trend
what next
IBTL Gallery