Don't Elect those Involved in Rajbala's Death: Ramdev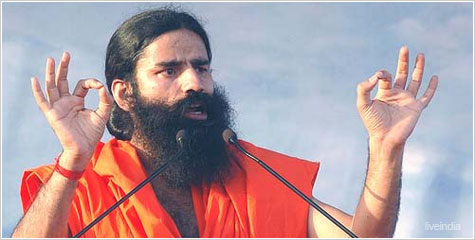 In an apparent attack on the Congress-led union government, yoga guru Baba Ramdev Friday appealed to the public not to vote for "the party involved in the 2G scam" and the death of his disciple Rajbala.
Speaking to reporters in Uttar Pradesh's Hardoi district, the yoga guru said: "We all need to stand united against corruption, and ensure that those responsible for the 2G scam and Rajbala's death should not get the chance to enter Lok Sabha or any state assembly."
"Corruption in the country can be effectively checked through formulation of tougher anti-graft laws and a change in economic policies... The onus is on us... We need to send only those people in the parliament who can sincerely fight against corruption and bring back the illegal wealth stashed in safe havens abroad," said Ramdev.
Ramdev was in Hardoi, over 100 km from Lucknow, for his ongoing anti-graft 'Swabhiman Yatra', which according to him has been been launched to "awaken masses about corruption and black money".
Fifty one-year-old Rajbala, who slipped into coma after suffering a spinal injury in police action to break up the yoga guru's Delhi protest in June, died Monday in a hospital in the national capital.
Launched Sep 20 from Uttar Pradesh's Jhansi district, the Swabhiman Yatra would traverse through various states of the county.
Share Your View via Facebook
top trend
what next
IBTL Gallery