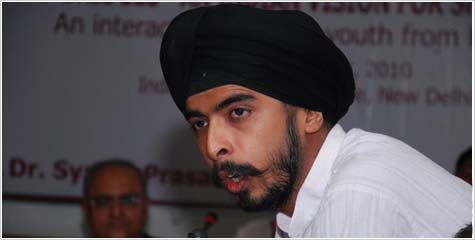 Two of the three young men who had attacked Prashant Bhushan for his anti-national remarks on Kashmir, were arrested by the Delhi Police when they were on their way to court arrest. Tejinder Pal Singh Bagga and Vishnu Gupta, who belong to a nationalist outfit, 'Bhagat Singh Kranti Sena', have been brought to the Tilak Marg police station. They had already said that they would court arrest in Patiala House Court at 11.30 am. The police arrested them before they could reach the court.
Soon after Bhushan was attacked, Bagga had claimed responsibility for the incident. He also claimed that he had attacked Hurriyat Leader Syed Ali Shah Gilani and activist Arundhati Roy for their remarks on Kashmir. The third person, Inder Verma was arrested on Wednesday itself. Verma claims that he is the president of the state unit of Sri Ram Sena.
Bhushan, a close aide of Anna Hazare, was beaten up by these 3 young men inside his chamber in the Supreme Court on Wednesday because of his anti-national comments on conducting Plebiscite in Kashmir valley and let the Kashmir separate from India, if some people so want.
Share Your View via Facebook
top trend
what next
IBTL Gallery