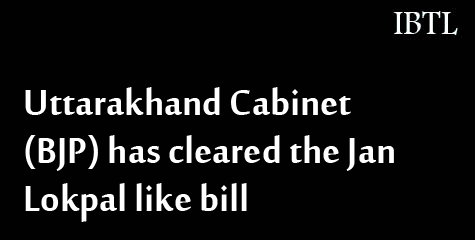 The world belongs to those who accomplish, they say. Barely 50 days old in CM chair of Uttarakhand after he was reappointed, BJP Chief Minister B C Khanduri has done so smoothly what the Center Govt has failed to accomplish yet despite so much rhetoric, fasting, agitation and mud-slinging.

The Uttarakhand Cabinet has cleared the Jan Lokpal like bill on Saturday. The bill is so strong that it'll have even the Chief Minister in its ambit, including all MLAs, top bureaucrats and IAS officers and all government servants. Even the lower judiciary is included in the Lokayukta net and only the judges of the High Court are kept outside. Lokayukta will also be in capacity of investigate incumbent Chief Minister and even retired officers. The Lokayukta will have five to seven members in its team. The range of punishment that can be imposed starts with a minimum of 6 months and extends up to life imprisonment.

The bill, known as Uttarakhand Lokayukta Bill 2011, is now set to be tabled in the Assembly session starting Monday. This bill is a replica of Anna's bill and Khanduri has shown very strong signals of how his BJP government pays utmost respect to the public sentiment. Of course, with elections due in 3 months, this is being considered as a master stroke by political pandits.

Khanduri reaffirmed that the objective of the bill was not just to eradicate corruption but also to maintain transparency and professional honesty in government functioning. Although BJP governments have in the past set many examples by bringing effective legislations at state level which the centre failed to do, needless to say, Khanduri has set another gem in such list of achievements, and he's now all set to turn the tables for 2012 assembly elections.
Share Your View via Facebook
top trend
what next
IBTL Gallery