Omar government imposes section 144 to prevent Amarnath Yatra and arrest Hindu pligrims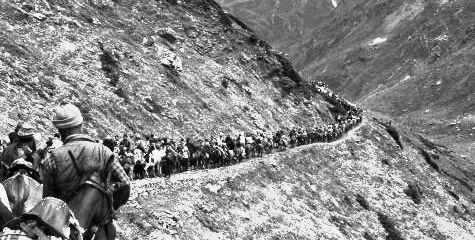 As per program, VHP is determined to start the Amarnath Yatra from Jyeshth Purnima, that's today, June 3rd, but since the State Government controlled Amarnath Shrine board had curtailed the Yatra to 39 days and has imposed its dictatorial date of 25th June once again sending the message that Kashmir doesn't belong to Hindus and they should accept it, now, the pilgrims will be arrested.

# अमरनाथ यात्रा रोकने के लिए सरकार ने की जम्मू में धारा १४४ लागू

Section 144 of CrPC has been invoked in Jammu District. District Magistrate Sanjeev Verma has warned Hindus of undertaking yatra to holy cave of Shri Amarnath from Jammu before the government date of June 25. "Restrictive measures against such individuals or groups would be initiated," the DM said. The DM, who's an employee of the Omar led state government, has given the excuse of weather conditions also not being favourable while it's for everyone to know that the duration of the Yatra has been repeatedly curtailed due to the threats of separatists like Syed Ali Shah Gilani, who's always been pampered by both the state government and the Congress led Central government.

The DM has asked the civil society and religious organisations for not proceeding to holy cave before officially announced date of 25th June. In prohibiting the movement of pilgrims in large group, the District Magistrate said measures have been taken to halt of the pilgrims to the district. He has also held parleys with religious organisations to prevent Hindu pilgrims from undertaking this pilgrimage.

IBTL view: It's a matter of sheer disgust that Hindus are being prevented to go on a pilgrimage in their own country due to the selfish interest of a handful of separatists and a government that appeases them. The patriots that endeavoured to take the National flag last year were meted out a similar treatment. That's when Indian taxpayers dole out huge amount to that government every year.

Share Your View via Facebook
top trend
what next
IBTL Gallery