RSS' National Council Meeting, Chennai : Resolution on North East area, Assam and China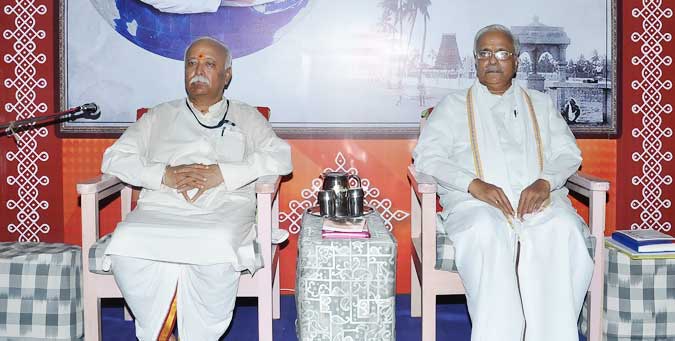 The national council meeting of RSS, being held for the first time in Tamil Nadu was inaugurated today by its chief (Sarsanghachalak) Shri Mohan Bhagavat. Amidst singing of a Tamil Hymn and chanting of mantras, Shri Mohan Bhagavat lit the traditional lamp in the presence of Shri Suresh Joshi, General Secretary. The three day proceedings are being attended by 400 participants from all parts of the country.

Immediately after the inaugural session Shri Dattatreya Hosabale, Joint Secretary, briefed the press on the agenda of the All India Executive Council Meeting also called as Akhila Bharateeya Karyakarani Mandal (ABKM)




As you all know the All India Executive Council, ABKM of RSS is meeting in Chennai for the first time in history. For organizational purpose RSS has two zones in Tamil Nadu, North and South. Such a meeting is being held for the first time in North Zone of Tamil Nadu. A similar meeting was held in Kanyakumari, a few years back. All office bearers are overwhelmed by the affectionate reception given by the people of Tamil Nadu. The arrangement in spite of cyclone has been superb. They are enjoying the hospitality, weather and food of Tamil Nadu.

The event inaugurated by the sarsanghachalak will be concluded on Nov 4th. We meet two times in a year. Once in March and once between Vijayadasami and Deepavali. We will discuss the plan for three years expansion programme. As we all know the 150th birth anniversary of Swami Vivekananda will be celebrated throughout the country. Vivekananda Kendra and other organizations inspired by RSS have come together to form a celebration committee. The committee will be declared on Nov 19th at Delhi. The programmes will start on Dec 25th, 2012 which is a very significant day as Swami Vivekananda meditated for 3 days at the famous rock at Kanyakumari starting from this day. The programmes will be in 5 segments - Youth, Women, Intellectuals, rural area and tribal belts with the basic tenets given by Swami Ji – Thyaga and Sewa. We are going to discuss how sangh will involve in these activities. In fact the planning is going on already for six months. Each state will have a state committee and there will be an All India Committee.




We will also discuss on two resolutions.

# Resolution on the recent happenings in North East area, Assam: As we all know in the last week of July and I week of August,2012, widespread agitation happened in Bodo area due to large scale infiltration from Bangladesh. Infiltration is continuing and has changed the demographics. In many states we find Bangladesh infiltrators residing and we can even find them in Tamil Nadu. Most of them have got voters ID and are also deciding MLAs and MPs. Recent eruption of violence is because of this tension. When violence erupted, four lakh people had to be in relief camps. Sangha Swayamsewaks have rendered necessary relief work. We want to bring this issue to the mainstream. The infiltrators should be identified and deleted from voter list. All efforts should be made to deport them back to their country.

# Also China is girding up its loins to expand supremacy particularly in Asia. In 1962 China invaded India on 21St OCT and they packed after we had suffered a humiliating defeat. The present generation should know about the security challenge. Necessary pressure should be brought on the government of the day. Though progress has been made in internal security capabilities due to the efforts of scientists lead by Dr A P J Abdul Kalam it is not adequate compared to the preparedness of the Chinese. The meeting is going to discuss this issue and pass resolution.

# Jan – Feb 2013: There will be Purna Kumbh Mela at Prayag. Crores of Hindus will be coming. It is a wonderful opportunity to see the huge gathering and it is planned to have discussion lead by Sadhus and Saints on Cow Protection ,Temple protection etc.,

Once again we are thankful to the people of Tamil Nadu and RSS volunteers from Tamil Nadu. We are sure it will be a memorable one...

Questions and Answers:

Q: Will there be resolutions on issues related to Tamil Nadu – Mullaiperiyar, Kaveri and Sri Lanka issue.
Answer: All these issues have been discussed and in fact a resolution was passed on Sri Lanka issue some time back. Sangh does not consider this as an issue of Tamil Nadu but treats them as national issues.

Q: Civilizations have come through migration and people are moving all the time. How can sangh pick on infiltration from Bangladesh alone?

Answer: Though they may be from the same culture politically both Bangladesh and Pakistan are different countries. The people are different citizens. Hence the people illegally coming from the country have to be treated as infiltrators.

Whether it is possible to curb this depends on the will of the people and the will of the government.

Q: What will be your approach if Hindus come to this country as refugees? Will it be different?

Answer: Hindus coming from any land to India will be treated as refugees. Even to the constitution this was acceptable in 1947. For Hindus this is the only country. Hindus come here because of harassment and humiliation.

Q: There is a dichotomy in RSS. Hindus should be treated as refugees but others as infiltrators.

Answer: Culturally we are one. But Bangladesh and Pakistan have declared themselves as theocratic states. We have declared our country as a secular country. Hindus have no rights in those countries. They are not treated as equal. People from Bangladesh do not come here due to harassment.

Q: Democracy and Pluralism are the pillars of this country. Is this view not against all this?

Answer: We say that whole world is one family. Does it mean if China attacks we should consider as brother attacking us and be quiet?

Q: Kejriwal has attacked both BJP and Congress. What is your stand?

Answer: It is for the Congress and BJP to answer the question. Sangh has taken the stand that all those facing such allegation have to face the probe and clear themselves.

Q: Gadkari is a swayamsewak. Will you not discuss about him in this meeting? Why you are critical of Congress on corruption what is your stand on him?

Answer: Gadkari is a swayamsewak. There can be internal discussions on the issue. Decisions on BJP matters are taken only by them. We do not interfere.

Q: There was a mention of a resolution on land grabbing. Gadkari is also facing an allegation on that?

Answer: Why single out Gadkari? We are not going soft on anyone. There will be no different yardstick. Public Morality and National Integrity is supreme.

Q: What do you say about the political situation?

Answer: It is very different from place to place across the country. It is difficult to say. But one thing, people of the country want a change for the better.

Q: Yeddyurappa Vs Gadkari. Yeddyurappa was asked to step down but why not Gadkari?

Answer: Yeddyurappa had to step down because after Lok Ayuktha probe. It is only media allegation in case of Gadkari. In case of Yeddyurappa it is the party that decided that he should step down.

Q: There seems to be lot of politicization of society?

Answer: It is a matter of great concern. It is not good. As Dr A P J Abdul Kalam has said spiritualization is required and not politicization. It is a matter of concern that people are losing faith in political parties.
Share Your View via Facebook
top trend
what next
IBTL Gallery