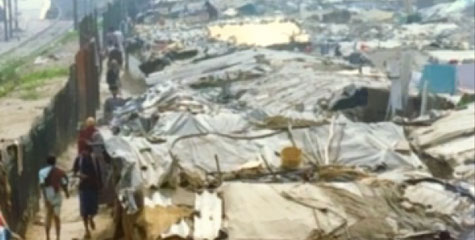 Though results of fifteenth Census of India 2011 are only preliminary, they indicate important changes in life of India. Census 2011 indicates that rate of growth of population has nosedived in two most populated cities of India, namely Delhi and Mumbai. Delhi's population grew by 44.3 lakhs during 1991- 2001 and that of Mumbai (island city and sub -urban) by 20 lakhs. In terms of decadal growth rate, population of Delhi grew by 47 percent, while population of Mumbai grew by 20 percent in that decade. It is worth noting that during that decade 1991-2001, overall population of India grew by 21.5 percent. Now when in the next decade 2001-11, decadal growth of overall population has been recorded at 17.6 percent, there has been out of proportionate fall in population growth in Delhi and Mumbai. Delhi has recorded a growth rate of less than 21 percent during 2001-11, as compared to 47 years a decade earlier. Another metro Mumbai has recorded a much lower growth in population, that is, 4.2 percent. If we subdivide Mumbai into island city and suburban Mumbai, we find 5.75 percent negative growth in island Mumbai city, whereas sub-urban Mumbai population has recorded a positive but low growth by 8 percent. As such whereas Mumbai recorded an addition to population of 20 lakhs during 1991- 01, during 2001-11 it could add hardly 5 lakh to its population and its population could hardly increase from 1.19 crores in 2001 to 1.24 crores in 2011. But it is also true that in terms of density Mumbai still has highest density of population in the country.

Amidst rising trend towards urbanisation in the country and the world, this statistics of slowing down of population growth in metros, forces us to think. Yet it is generally believed that people from other parts of the Country migrate to metropolitan cities and thus increasing congestion in the metros makes life difficult for the people and there is pressure on existing infrastructure so also on the government to create additional infrastructure.

But the 2011 census figures indicate some different picture. Size of Delhi's population grew by 20.96 percent between 2001 and 2011, against the national average of 17.6 percent. It is generally believed that migration of population from other parts of India is the major cause of growth of population in Delhi. There was nothing wrong in this perception, as even during the decade 1991- 2001, population of Delhi grew by 47 percent against national decadal rate of growth of population of 21.5 percent. Now that population of Delhi has grown just at just 21 percent against the national average of 17.5, very small number seems to actually migrating to Delhi.

Further if we try to indicate at the sex of migrating population we find mostly women have migrated to Delhi. This is proven by the fact that Delhi's sex ratio has improved from only 821 females in 2001 to 866 in 2011 per 1000 of males. National sex ratio is 940 females per thousand of males. This means that now those who migrated from rest of India to Delhi have started bringing their families which is causing increase in sex ratio, as well as increase in overall population of Delhi. Thus fresh migration to Delhi has been minimal.

However, due to the growth rate of 21 percent, primarily due to natural growth, density of population in Delhi, which was 9340 persons per km in 2001, increased to 11 297 in 2011. But we must note the fact that population growth rate has come down from 47 percent during 1991-2001, to only 21 percent in the last decade, has in fact given a big relief. Had this growth rate not decelerated this density could have gone to about 13700.

Department of Census tries to explain the cause of this trend. It says that removal of slums from various parts of city, including Yamuna Pushta, as a general drive and displacement of slum clusters due to preparation for Common Wealth Games have been mainly responsible for this trend. Some of these people previously living in slums could not be rehabilitated. Population of NDMC area itself has gone down due to removal of slums. Census report for NCT of Delhi says that it has no information about the status of population affected by the removal of slums. So it seems that a large number of people have migrated out of Delhi. It may be interesting to note that there has been differential rate of growth of population in different districts leading to differential increase in density of population. For instance North - East Delhi registered a huge increase (37 percent) in density during last decade, East Delhi registered 27 percent increase, Central, West and North Delhi registered 23 percent, 20 percent and 15 percent respectively.

South Delhi, South West Delhi and New Delhi's density increased by only 11 percent, 5 percent and 4 percent respectively. Previously, due to availability of land it was easy to establish slums, but situation is not the same now. Due to fast development of Delhi in terms of building activity and other infrastructural projects, migration into Delhi and establishing slum dwellings is no longer an easy option. For migrated population, once displaced it is not easy to establish again due to prohibitive property prices in Delhi.

All this is happening when transport, electricity and water facilities etc. are much better than before. Delhi Metro has also revolutionised the living in Delhi. But despite all this Delhi's expensive cost of living is now preventing people from settling in Delhi. A new trend is emerging now and a number of people have moved out of city limits of Delhi and started settling in NCR and now taking advantage of transportation facilities in Delhi they daily come to Delhi for work from surrounding cities of Ghaziabad, Faridabad, Gurgaon, Bahadurgarh, Sonepat etc.

Demographic changes in Mumbai point to similar trends. Census 2011 show a very little increase in population in sub- urban Mumbai and decrease in population in Mumbai island city. Reasons for this trend are perhaps the same. Cost of living in Mumbai has also increased tremendously. Limited availability of land in Mumbai pushes the population out of Mumbai island city as well as sub-urban Mumbai.

One can conclude that due to rising rentals, property prices and cost of living in metros condition of the common man is now becoming miserable and therefore population there is either declining or rising at a lower rate than before. Thus despite rising trend of urbanisation in the country and world over, metros are no longer preferred destination for migrating population.
Share Your View via Facebook
top trend
what next
IBTL Gallery