Done with Booze, Drugs and Porn, now wants Sharia for India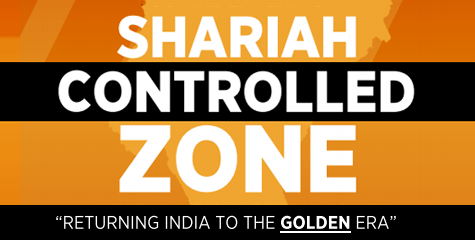 Meet Anjem Chowdhary, the guy who wanted to impose Sharia in India and had all ridiculous arguments in its favour as IBTL reported first on Feb 12th [Shariya for India, website calls for Islamic revolution on March 3rd]. He had planned a massive muslim rally to invite Indian Hindus to convert to Islam and gherao the Indian parliament until Indian government throws the "man-made" constitution into dustbin and adopts "divine sharia law". Following the news published on IBTL, nationalist organisation Bhagat Singh Kranti Sena filed a PIL against them and got the Delhi High Court ban the website in India and ban the rally as well. [शरियत रैली पर हाई-कोर्ट की रोक, शरिया 4 हिन्द पर लग सकता है प्रतिबन्ध]

But, the man who demands axing Bollywood, demolishing all temples, and imposing Jizya tax on all Hindus for 'protecting' their life, and unfurling the "black flag of Islam" on Indian parliament, had a life of a spoilt "bad man" earlier.

Britain's leading daily, Daily Mail has exposed the ugly past of this person, hate-monger Anjem Chowdhary, who has in recent past done similar rallies in other European countries too. Daily Mail reports that before he grew his beard and turned to fundamentalism, Choudary, 41, was very much the life and soul of the party at Southampton University.




Photographs obtained by the Mail suggest 'Andy' - as he was then known - should be inflicting on himself the 40 lashes he prescribes for drunkenness. As well as downing cider and lager, the cleric is shown playing drinking games with cards, clearly forbidden under his strict Islamic laws, and holding a cannabis joint between his lips before smoking it.

On the evidence of friends from his student days, Choudary had sex with numerous white Christian girls. Under his version of Sharia law, he should be stoned to death for sex outside marriage. One of his former friends told Daily Mail, 'I can't keep a straight face when I see "fundamentalist Muslim Anjem Choudary" in the papers attacking the British for drinking or having girlfriends. 'When I knew him, he liked to be called Andy, would often smoke cannabis spliffs all day, and was proud of his ability to down a pint of cider in a couple of seconds.




But in his days as a law student, he experimented with LSD, hallucinating and laughing hysterically for more than 20 hours. After he qualified as a solicitor, however, he swiftly moved into ever more radical Islam. Former acquaintances said this was possibly because he was angered by his failure to land a well-paid job with a big City law firm. At a mosque in Woolwich he met notorious firebrand preacher Omar Bakri Mohammed and quickly became his right-hand man. He also mixed with hook-handed demagogue Abu Hamza, who once called for bomb attacks on British civilian aircraft at a meeting chaired by Choudary. Choudary, meanwhile, is an ever-more prominent spokesman for radical Islam in Britain - despite the fact that the two groups he ran with Bakri, Al Muhajiroun and Al-Ghurabaa, have been banned. He seeks 'a pure Islamic state with Sharia law in Britain' where "Every woman, whether Muslim or non-Muslim, would have to wear a traditional burka".

Copyrighted Pictures : dailymail.co.uk
...
Share Your View via Facebook
top trend
what next
IBTL Gallery