Indian govt issues gag order to the Press, stop supporting Delhi Gang Rape Protests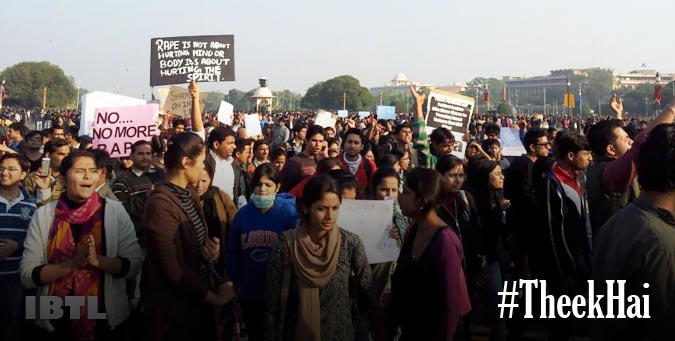 Undersigned is an unconfirmed advisory issued by Government of India. If true, it shows another attempt, rather contempt, by fascist and intolerant Congress to gag free speech of the Press because a few TV channels have been honestly covering the protests against a bestial #DelhiGangRape and heinous inhuman police brutality (Photos) that his savage Congress government committed on peaceful protesters. Recently Congress government through idiot Kapil Sibal has been issuing such advisories at its whims to censor free speech both Online and otherwise, without proper file noting numbers and redressal mechanism. Now, gutter-mouth Manish Tewari is doing the same.

Please also see the attached pictures and notice the sheer magnitude of police brutality and inhumanness with which peaceful young children, old men and women protesters were mercilessly beaten. People from all walks of life were assaulted including Baba Ramdev and his supporters. Even animals are not treated in such cruel manner. Politicians and few in media may not agree with Baba Ramdev's political views but they can't deny the fact that this self-made man has huge following, more so than many politicians, and he represents a big section of society. Just because Swami Ramdev is not convent educated, supports Swadeshi and his followers are mostly lower class, you cannot discount the importance of his opinion. Sure he ran to save his life on June 4. So what? He lived another day to fight for all citizens irrespective of his or her caste, color, religion, or creed. Many people in our Indian history including Arjun, Shivaji, et al masqueraded in women clothes at some point or the other. God Shri Krishna moved from Mathura to Dwarika and was named Ranchor (ran from war). When politicians and media derisively say Baba Ramdev ran in a Sari or Salvaar Kameej, they are only insulting their own mothers and sisters. Because they are, in other words, belittling Indian women's clothes. The contempt with which this government and media treats Baba Ramdev and his supporters is appalling and disgusting.

This wretched government is condoning despicable assault on its citizens by saying 1% committed violence so we beat the hell out of other 99%. In fact, as per a few news reports, it was goons from Congress's own student-wing NSUI who allegedly started the violence on Sunday and the whole drama of anonymous student delegation meeting Sonia Gandhi on Sunday was also all stage managed, as it was later found out that they may belong to NSUI. No wonder, one of those people, who supposedly met Sonia Gandhi, was also seen touching MoS Home RPN Singh's feet after the fake news conference. Disgusting! It is wise to also mention that Congress Minister RPN Singh is husband of Sonia Singh, who is the editorial director at NDTV, and he was once recorded on camera beating protesters at Rahul Gandhi's election rally.

It is amazing that baring a few usual scapegoats, no senior official's head roll so far. Home Minister Sushil Shinde, MoS Home RPN Singh, Home Secretary, and Delhi Police Commissioner Neeraj Kumar are rather acting brazenly shameless and self-congratulatory, to say the least. Instead of taking responsibility and stepping down, Shinde and Neeraj Kumar come on TV to pontificate that it is people's fault that they got injured and that they will not engage with the citizens.

MoS Home RPN Singh went so far as to demanding safety from protesters rather than restraining Delhi Police from assaulting protesters. I was shocked when he said on CNN-IBN that he will come to India Gate to assure protesters about women safety if and only if protesters guarantee him safety. Mind numbing irony! If MoS Home is unsure if Delhi Police can protect him from 'peaceful' protesters, what expectations can the citizens have from this savage Delhi Police and Congress government?

Sushil Shinde is no less a dimwit. As a self-proclaimed foot soldier of Sonia Gandhi (not the nation mind you), Shinde wants people to stop protesting as it will look bad to visiting Russian President Putin. May be because he is more concerned about the kickbacks that this corrupt Congress government will make from defense deals rather than defending the Civil Rights & Liberties of the very same people these weapons are supposed to protect.

As expected, Delhi Chief Minister Sheila Dikshit has been at her callous best. She came on establishment friendly news channels such as NDTV and CNN-IBN to cry. However, her crocodile tears were later exposed when it emerged that she was partying unrestrained with other Ministers at various Christmas parties, showing grave indifference and utter disregard to one of the worst dreadful tragedies that have occurred right under her nose. Please read दिल्ली में दुष्कर्म के बाद मुख्यमंत्री शीला ने मनाई क्रिसमस पार्टी? and Soumya murder: CM remark has city fuming.

All these people except Delhi CM (due to lack of jurisdiction) should be fired immediately by the Prime Minister. Alas, Prime Minister is himself missing in action. Mr. Underachiever has time for a photo-op at some stupid ASEAN car rally but not one minute to extemporaneously address the nation even after 8 days of relentless protests.

When Manmohan Singh finally came out of MMS mode, after 9 days of persisted public suffering, this moronic wimpy so-called Prime Minister makes a fool of himself by asking "theek hai". As if he was doing a favor on the nation by giving a boring parroted speech. However, I have to acknowledge here that #TheekHai was probably the only part of that uninspiring cut-and-paste speech that this Sonia Gandhi's poodle said using his own brain, if he has any.

And what should I say about President Pranab Mukherjee. The man is probably lost in his huge palatial Palace that he cannot find his way out to calm and assure the lesser mortals of their safety. Young peaceful apolitical protesters, both school and college going, were mercilessly beaten without any reason but Pranab Mukherjee was probably lying in some bath tub signing a few proclamations under her majesty's order. There was no violence on Saturday, as caused by NSUI goons on Sunday, and then what was the reason for using unimaginable amount of tear gas and water cannon on our children? Right outside his house Civil Liberties were murdered again and he did nothing but silently approved it. Are we surprised? It is the same man who assisted dictator Indira Gandhi in enforcing Emergency and he is now doing Sonia Gandhi's biding. Don't be surprised if this Fakhruddin Ali Ahmed reincarnate may happily turn in to Giani Zail Singh to sweep the floor or Pratibha Patil to cook in the kitchen for despotic Lady Bountiful Sonia Gandhi any day.

Lieutenant Governor Tejinder Khanna के क्या केहने। Far from the worries of Delhi protests, he has been enjoying holidays in the US. You see, we can't blame him because the world is so disconnected that the news takes forever to reach across continents.

This barbaric government needs to go, and needs to go now! They are the biggest danger to Indian Democracy right now. Throw them in Sindhu Sagar, if possible.

In the end all I will say is that
I pray for the well being and recovery of the victim of this bestial gang rape and hope that the perpetrators are hanged as soon as possible (through legal process).

I wish timely justice is delivered to other women and children also, who have been victims of rape and sexual assaults.

I wish laws are changed to castrate sexual offenders, and hang rapists and pedophiles. They should be treated as social outcast.

Those convicted of rape or pedophilia should not be allowed to hold any public office. Sitting MPs with sexual offense record should be removed from the Parliament. Even their immediate family members should be barred from holding any public office for at least two generations.

Police should be reformed and trained to be sensitive to the citizens.

Draconian colonial Police laws such as Section 144 should be scrapped.

Draconian censorship laws 66A, 153A and 295A should be scrapped. People should have absolute Right to Free Speech and Offend. There should be NO Right to be offended.
Last but not the least; I hope men start behaving like humans, and not beasts and rabbits.

Author : Seema
- - - - - - - - - - - - - - - - - - - - - - - - - - - - - - - - - - - - - - - - - - - - - - - - - -
Disclaimer: The author is a commentator on issues of national interest. These are his personal views and do not necessarily reflect IBTL's opinion.
- - - - - - - - - - - - - - - - - - - - - - - - - - - - - - - - - - - - - - - - - - - - - - - - - -

एडवाइजरी भेज केंद्र ने चैनलों को हड़काया ताकि फिर जनसैलाब उमड़े
तो लगातार लाइव न दिखाएं (लिंक)

From - Government of India, Ministry of Information & Broadcasting, "A" Wing Shastri Bhawan, New Delhi-110001, 23rd December, 2012: To- All News and Current Affairs satellite Television Channels : Subject- ADVISORY: Whereas a number of private satellite news TV channels have been showing programmes covering round-the-clock direct telecast of the events relating to public demonstration being held in New Delhi in the wake of the unfortunate and tragic incident of gang rape of a young girl on 16th December, 2012 in a moving bus. The channels have been covering the agitation and the efforts of the law enforcing authorities to maintain law & order, as well as the commentaries of the channel reporters to portray the incidents from their own perspectives.

Whereas this incident and the public outcry in its aftermath are a very sensitive issue and any inappropriate media reportage thereon is likely to vitiate the law and order situation. It has been observed that some private satellite news TV channels in their 24X7 coverage have not been showing due responsibility and maturity in telecasting the events relating the said demonstration and such a telecast is likely to cause deterioration in the law & order situation, hindering the efforts of the law enforcing authorities.

Whereas Rule 6(1)(e) of the Cable Television Networks Rules, 1994, which contains the Programme Code to be strictly adhered to by all private satellite television channels, provides that no programme should be carried in the cable service which is likely to encourage or incite violence or contains anything against maintenance of law and order or which promotes anti-national attitude.

Now, therefore, all private satellite television channels are advised to scrupulously follow the Progarmme Code laid down in the Cable Television Networks Rules, 1994 and to ensure to telecast the matter in a responsible manner with due care, maturity and restraint.

Any violation of the Programme Code will invite such action as provided for in the Cable Television (Regulation) Act, 1995 and the Rules framed there under as well as the terms & conditions stipulated in Uplinking & Downlinking Guidelines.

Supriya Sahu

Joint Secretary to the Govt of India
Ministry of Information & Broadcasting
"A" Wing Shastri Bhawan, New Delhi-110001
23rd December, 2012
Share Your View via Facebook
top trend
what next
IBTL Gallery