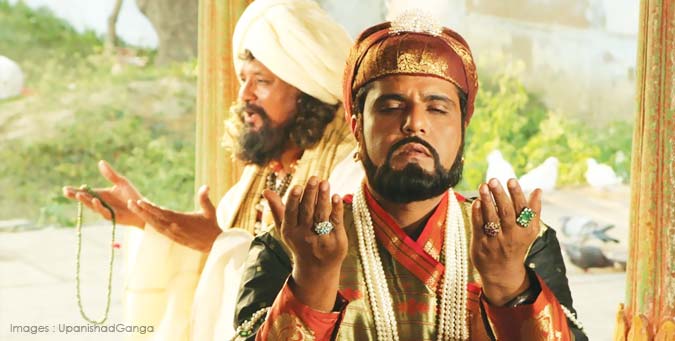 What are the Vedas? That the Vedas are the very basis of the Indian ethos, their all-inclusive nature, and all-welcoming spirit is brought out in this episode. That this Vedic wisdom provides us the means to beatify individual life, uplift society, and integrate the totality is bring out in this episode. For introducing this beautiful concept, the scholarly Mughal prince Dara Shikoh has been chosen.

हिंदी में पढ़ें : वेद, भारतीय दर्शन और संस्कृति का मूल आधार
The story begins with Aurangzeb arresting his elder brother Dara Shikoh. In prison, Dara Shikoh narrates to his son Sipihar Shikoh how he is inspired by his Master - Miyan Mir, to translate Upanishads into Persian, and how he goes to Kashi along with Pandit Chandrabhaan to learn this knowledge from Baba Laaldaas.




This is the continuation of the thoughts of the earlier episode. Veda means knowledge. On what basis is the Veda divided into four? How again is each of the four Veda sub-divided? What does each of the sub-divisions deal with? How do they uplift the human spirit…these ideas are dealt with in this episode.




This episode takes the story of Dara Shikoh forward, as to how he gets in-depth knowledge of the Vedas from Baba Laaldaas. Meanwhile, Aurangzeb and other fundamentalists accusing Dara of being a 'Kafir', an infidel, take him to the gallows.

Source : Upanishad Ganga | facebook.com/UpanishadGanga
Share Your View via Facebook
top trend
what next
IBTL Gallery